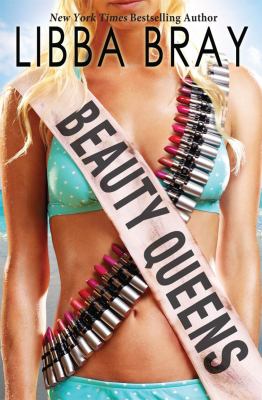 Beauty Queens
by Bray, Libba


Publishers Weekly Bray follows her Printz Award-winner, Going Bovine, with an only slightly less absurd premise in this out-there satire about a planeload of teen beauty queens who crash onto a (not so) deserted island. Lord of the Flies with an evening gown competition, anyone? Led by the indefatigable Miss Texas, Taylor Rene Krystal Hawkins, the 14 surviving contestants must rely on competitive moxie. Despite the large cast, Bray makes the Misses distinctive, though each is more a stand-in for a particular brand of diversity than a fully dimensional teenager (one's black, one's deaf, one's gay, one is a boy in the process of becoming a girl). Poor Miss New Mexico stands out because she has a serving tray embedded in her forehead. ("Bangs are the new black!") Halfway through the ordeal, a boat full of shirtless, reality TV pirates runs aground, allowing for some smoking hot scenes. Fun footnotes, contestant profiles, and scripted commercial breaks are interspersed. There's a lot of message, but every time the story veers toward sermonizing, Bray corrects with another crack about our media-saturated, appearance-obsessed, consumer-driven society. Ages 13-up. (May) (c) Copyright PWxyz, LLC. All rights reserved.
(c) Copyright PWxyz, LLC. All rights reserved
Book list When a plane carrying contestants for the Miss Teen Dream pageant crashes on a remote island, the survivors face greater challenges than just finding food, shelter, and missing cosmetics. Unbeknownst to the girls, the island is not deserted: its volcano houses a secret U.S.-government enclave involved in illegal weapons trading, and the cast grows further after some studly reality-TV pirates arrive on the scene. Outlandish? Yes. And there are characters that veer toward stereotype: take-charge Miss Texas, incognito-journalist Miss New Hampshire, and transgender Miss Rhode Island (who has a surprise under her sash), among others. But rather than letting the plot reel out of control, Bray, author of the Printz Award-winning Going Bovine (2009), spins this hilarious romp into an examination of femininity and feminism, sex and sexuality. And while they await rescue, the girls discover moving truths about themselves. The text is interspersed with commercial breaks, contestant fact sheets, footnotes, radio broadcasts, and spoofs of reality TV and celebrity status, all of which add to the appeal of this sure-to-be popular title.--Dobrez, Cind. Copyright 2010 Booklist
From Booklist, Copyright © American Library Association. Used with permission.
School Library Journal Gr 9 Up-Whip-smart social commentary, surreal plot elements, and feminist themes come together in this bizarre and brilliant story about a group of beauty pageant contestants stranded on a remote island after a plane crash. Undaunted by disaster, the teens hone their survival skills as they practice dance routines and pageant interviews, while a ruthless corporation secretly plans to use them as pawns in an arms deal with an insane dictator. Beneath an entertaining veneer of witty dialogue and comic absurdity lies a thought-provoking exploration of society's expectations for how young women should look, feel, think, and act. Wry footnotes lampoon the media and pop culture, while hilariously scripted "commercial breaks" interrupt the narrative, leading readers to question the pervasiveness of self-improvement products that make consumers feel inadequate. Using multiple points of view to tell the story, Bray rises admirably to the challenge of developing a large cast of characters. Each pageant contestant possesses much more than surface-level beauty, and even the most stereotypically ditzy girl offers unique and unexpected strength. Readers from all backgrounds will identify with the representation of various religions, ethnicities, and sexual orientations among the characters. Occasional strong language and a frank approach to sex may make this novel most appropriate for older teens. The empowering theme of self-acceptance and the affirming message that women should not underestimate themselves or others makes this novel a potentially life-changing book for budding feminists.-Allison Tran, Mission Viejo Library, CA (c) Copyright 2011. Library Journals LLC, a wholly owned subsidiary of Media Source, Inc. No redistribution permitted.
(c) Copyright 2010. Library Journals LLC, a wholly owned subsidiary of Media Source, Inc. No redistribution permitted.