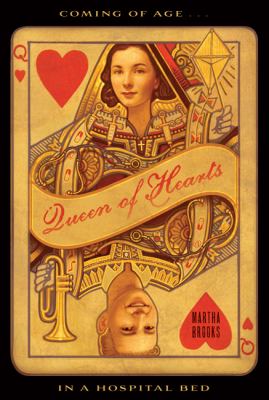 Queen of Hearts
by Brooks, Martha


School Library Journal Gr 7-10-It is 1940, and Canada, along with the rest of the world, is at war. Marie-Claire, 15, lives on a farm with Maman, Papa, and her younger brother and sister. Never easy, life gets much harder after down-on-his-luck Oncle Gerard comes to stay and then dies from tuberculosis in the local infirmary. Soon, Marie-Claire and her siblings are diagnosed with TB and consigned to the same institution. Adventuresome and headstrong Marie-Claire is confined to a bed next to painfully cheerful Signy and told to be a "patient patient." When her brother dies just before Christmas, Marie-Claire must come to terms with the blame she has placed on herself for having taken him to visit their Oncle, as well as her father's inability to deal with what has happened to his children. The novel provides an intriguing glimpse into the now-unfamiliar world of TB sanatoriums. From a scene in which the women tan naked to soak up the sun to Marie-Claire's stolen moment spent flying a kite by moonlight with her new love, the story is played out in small moments, sometimes heart-wrenching, sometimes sweet, and always poignant. Brooks masterfully re-creates a TB sanatorium through the protagonist's experience and believable characters. A well-drawn, innocent, yet compelling work of historical fiction.-Jill Heritage Maza, Montclair Kimberley Academy, Montclair, NJ (c) Copyright 2011. Library Journals LLC, a wholly owned subsidiary of Media Source, Inc. No redistribution permitted.
(c) Copyright 2010. Library Journals LLC, a wholly owned subsidiary of Media Source, Inc. No redistribution permitted.
Book list Set in a tuberculosis sanatorium in Canada during the early 1940s, this moving perspective of the home front during wartime is told in the first-person, present-tense voice of Marie-Claire, who at 14 is infected with TB and must move with her younger brother and sister from their Manitoba farm to a treatment center, where they are separated. Over nearly three years, she suffers not only the crushing physical symptoms of her disease but also loneliness, fury at her parents, and overwhelming sorrow and guilt when her little brother dies. So weak at first that she cannot get out of bed, she slowly recovers, but others do not. Along with the medical details--lesions and treatments, infection, collapsed lungs, fluoroscopy--the personal drama drives the story, from scenes of Marie-Claire venting furiously to her sweet, supportive roommate abou. this stupid pathetic plac. to surprising reversals. Marie-Claire falls in love, but there is no easy resolution, especially with her distant dad. Readers will be held by the story's heartbreaking truths, right to the end.--Rochman, Haze. Copyright 2010 Booklist
From Booklist, Copyright © American Library Association. Used with permission.
School Library Journal In the 1940's, Marie-Claire and her siblings contract tuberculosis and move to a sanatorium in Manitoba. Undergoing treatment, Marie-Claire learns of love, loss, and friendship. This novel is deeply moving and emotionally honest, and readers will empathize with its characters. (c) Copyright 2012. Library Journals LLC, a wholly owned subsidiary of Media Source, Inc. No redistribution permitted.
(c) Copyright 2010. Library Journals LLC, a wholly owned subsidiary of Media Source, Inc. No redistribution permitted.
Publishers Weekly When 15-year-old Marie-Claire and her younger brother and sister are diagnosed with tuberculosis, they are admitted to Quebec's Pembina Hills Sana-torium, where they separately struggle with the disease. In the 1940s, the only cure-according to Marie-Claire's nurse-is "rest.... besides eating properly and breathing in fresh air at night and during rest hours and, sometimes, surgery." Brooks's (Mistik Lake) premise may not instantly click with readers, but they will sympathize with the book's prickly heroine, who feels as though "my world as a normal person has just ended." Marie-Claire has many anxieties, from worrying about her siblings to fearing a grisly operation. But as Marie-Claire recuperates, she grows up, too, beginning a sweet romance with another patient and learning to support those she loves, even though "bad things happen and will keep on happening." Marie-Claire and her fellow patients' fears will be recognizable to contemporary readers-in a heartbreaking scene, another girl, Signy, wonders, "And who will love me?" And those worries gain real depth from truly being a matter of life or death, instead of just feeling that way. Ages 12-up. (Aug.) (c) Copyright PWxyz, LLC. All rights reserved.
(c) Copyright PWxyz, LLC. All rights reserved