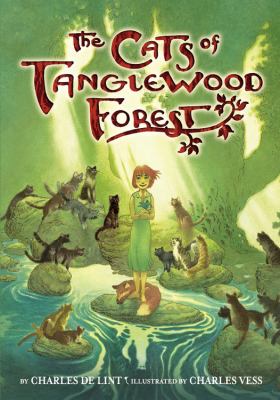 The cats of Tanglewood Forest
by written by Charles de Lint ; illustrated by Charles Vess.


Book list In this expanded version of A Circle of Cats (2003), 12-year-old orphan Lillian is bitten by a snake, but she is spared death when the cats of Tanglewood Forest turn her into a kitten. Old Mother Possum takes her back in time to return her to human shape, but this time Lillian's aunt succumbs to the snake. Realizing that her choices bring unintended consequences, Lillian begins a quest to revisit her decisions, with the goal of saving her aunt, and her kindness toward others (as well as her cleverness) eventually does just that. Set in a magical forest populated by Bear People, an Apple Tree Man, and the Father of Cats, the story's lyrical, folkloric style is well suited to a tale of magic and mystery. Vess' line-and-watercolor illustrations (not seen in final form) appear throughout; they help to break up the text for younger readers and give form to de Lint's unusual characters. Give this to fans of Tony DiTerlizzi and Holly Black's Arthur Spiderwick's Field Guide to the Fantastical World around You (2005).--Weisman, Kay Copyright 2010 Booklist
From Booklist, Copyright © American Library Association. Used with permission.
Publishers Weekly In this enchanting expansion of De Lint and Vess's 2003 picture book, A Circle of Cats, the duo tells the story of Lillian Kindred, a spirited orphan living on a farm at the edge of a forest with her beloved aunt. While exploring, Lillian is bitten by a snake but saved from death by the magic of the feral cats she has befriended, who turn her into a kitten. Seeking a return to human form, Lillian makes a deal with Old Mother Possum, only to discover that her aunt has died of snakebite. A complex series of adventures, transformations, and tradeoffs occurs, involving a number of De Lint's typically syncretistic magical characters, including Aunt Nancy the spider woman and T.H. Reynolds the fox, who unapologetically informs Lillian that he's eaten Mother Possum's husband, saying, "I'm a fox. It's what we do." De Lint zestfully combines the traditional and the original, the light and the dark, while Vess's luminous full-color illustrations, simultaneously fluid and precise, capture Lillian's effervescent blend of determination and curiosity. Ages 8-12. Agent: Russell Galen, Scovil Galen Ghosh Literary Agency. (Mar.) (c) Copyright PWxyz, LLC. All rights reserved.
(c) Copyright PWxyz, LLC. All rights reserved