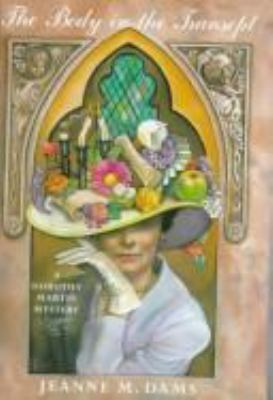 The Body in the Transept
by Jeanne M. Dams

Library Journal : This offering from newcomer Dams gleams with all the polish of a quaint English-village mystery. American widow Dorothy Martin, sixtyish and plump, inhabits a picturesque Jacobean house in Sherebury. Feeling low, she attends Christmas Eve services at a nearby cathedral and afterwards trips over the bloody body of a clergyman. Unable to put the matter out of her mind, and in need of something to do, she begins sleuthing. Nicely described small-town antics, a cleverly concocted plot, and a charmingly competent heroine. Recommended.
Copyright 1995 Cahners Business Information, Inc. Distributed by Syndetic Solutions Inc. Terms

Publishers Weekly : Drawing on American sensibilities and English tradition, Dams's debut introduces widowed American sleuth Dorothy Martin, who will delight lovers of cozies set on both sides of the Atlantic. Dorothy has moved to the fictional university/ cathedral town of Sherebury, where she and her academic husband had planned to retire before his unexpected demise. After the Christmas Eve service in the Cathedral, Dorothy stumbles over the body of Canon Billings. Once she recovers her equilibrium, she finds herself feeling involved in the case and curious about the unpleasant but learned Canon, who had made more enemies than friends. He had recently argued vehemently with his young, hot-headed assistant in the library, had tried to get the choirmaster fired and was gathering evidence against the verger who was stealing from the collection plate. Dorothy charmingly insinuates herself into village life in the best Miss Marple tradition, talking to neighbors and befriending others (including widower Chief Constable Alan Nesbitt) and determinedly pursuing the killer even as she puts herself in danger. With her penchant for colorful hats, Dorothy establishes herself as a fresh, commanding--and always genteel--presence among female elder-sleuths of the '90s.
Copyright 1995 Cahners Business Information, Inc. Distributed by Syndetic Solutions Inc. Terms