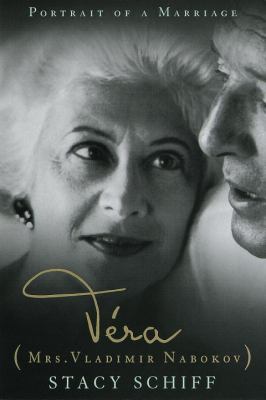 Vera (Mrs. Vladimir Nabokov)
by Stacy Schiff

Library Journal : Vladimir Nabokov's works have come to the attention of the public again with the publication of Library of America editions and the recent film version of Lolita. Several years ago, Brian Boyd produced a two-volume definitive biography: Vladimir Nabokov: The Russian Years (LJ 10/1/90) and Vladimir Nabokov: The American Years (LJ 8/91). Schiff's book distinguishes itself by focusing on the relationship between Vladimir and his wife V ra, a marriage that lasted some 50 years. Schiff (Saint Exup ry, LJ 10/1/94) traces the years in France and Germany before World War II, followed by a hurried immigration to the United States and Nabokov's eventual literary success. Schiff also handles the difficulties within the marriage, including affairs. Through it all, the couple forged a close alliance as V ra oversaw the editing of manuscripts, translation, the negotiation of contracts, and much of Vladimir's correspondence. The result is a scholarly, readable look at a remarkable literary duo.
Ronald Ray Ratliff, Chapman H.S. Lib., KS Distributed by Syndetic Solutions Inc. Terms

Publishers Weekly : V ra Nabokov was not only devoted to her husband's literary career; she was crucial to it. Schiff (Saint-Exup ry) contends that Nabokov's public image was V ra's doing: "we are used to husbands silencing wives, but here was a wife silencing, editing, speaking for, creating, her husband." For almost all their married lives, the Nabokovs were inseparable. Russian migr s in Germany, France and then the U.S., they eked out a bare existence despite Nabokov's reputation as a stellar Russian novelist. With no market for his writing, he needed his wife to work as a translator so they could survive. After hours she also edited and translated his writings, conducted his professional affairs and maintained their marriage. Only the runaway international success of Lolita when they were in their later 50s freed the couple from scraping together a living. (A film advance gave Nabokov 17 times his annual salary at Cornell, a post that had taken years to secure.) Suddenly flush, the Nabokovs, by choice, again became migr s, wealthy residents of a Swiss luxury hotel. Schiff's best pages evoke the years of adversity, as when the Jewish V ra, regal even in penury, perilously remained in Nazi Germany until May 1937 (after non-Jewish Vladimir exited) because it was the only country where either one could legally work. Often described as "hovering" over her husband by his Cornell colleagues, V ra was always close by--even working as his teaching assistant--because, according to Schiff, he simply could not function without her. This book offers more than a peek at the famous author through his wife's eyes. When her 1991 New York Times obit called V ra "Wife, Muse, and Agent" it only hinted at her role, which is rescued from obscurity in Schiff's graceful prose. 16 pages of b&w photos.
Copyright 1999 Cahners Business Information, Inc. Distributed by Syndetic Solutions Inc. Terms