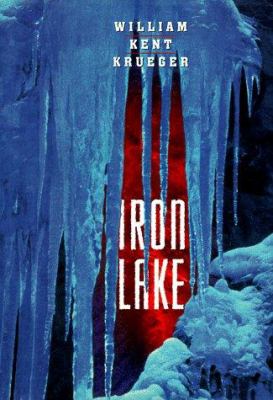 Iron Lake
by William Kent Krueger

Library Journal : In Krueger's first mystery after a spate of short stories, former sheriff Cork O'Connor deals with a missing boy, a dead judge, and a Minnesota blizzard. Some very strong prepublication reviews (e.g., "the author's deft eye...brings the town and its problem to vivid life," Publishers Weekly) sent this book spinning, and it won some praise from the consumer press as well. It also popped up a few times on LJ's "1999 Adult Book-Buying Survey Among Librarians" as a local title that circulated especially well.
Copyright 1999 Cahners Business Information, Inc. Distributed by Syndetic Solutions Inc. Terms

Publishers Weekly : Short-story specialist Krueger brings a fresh take on some familiar elements and a strong sense of atmosphere to his first mystery. Chicago cop Cork O'Connor and his wife, Jo, a lawyer, moved back to his northern Minnesota hometown of Aurora to improve their quality of life, but it didn't work. Cork became the sheriff but lost an election after a disagreement between local Indians and whites over fishing rights turned deadly. Then his marriage broke up, with Jo becoming a successful advocate for tribal rights and Cork reduced to running a scruffy restaurant and gift shop. As the book starts, Cork, feeling guilty about sleeping with a warmhearted waitress, is still hoping to get back with Jo and their three children. Drawn into the disappearance of an Indian newsboy, which coincides with the apparent suicide of a former judge, Cork quickly clashes with some well-connected foes: a newly elected senator (who also happens to be the judge's son and Jo's lover); the town's new sheriff; and some tribal leaders getting rich on gambling concessions. When an old Indian tells Cork that a Windigo (a malign spirit) is fueling events, it becomes an occasion for Krueger to draw some nifty connections between the monsters of the heart and the monsters of myth. Krueger makes Cork a real person beneath his genre garments, mostly by showing him dealing with the needs of his two very different teenage daughters. And the author's deft eye for the details of everyday life brings the town and its peculiar problems to vivid life.
Copyright 1998 Cahners Business Information, Inc. Distributed by Syndetic Solutions Inc. Terms