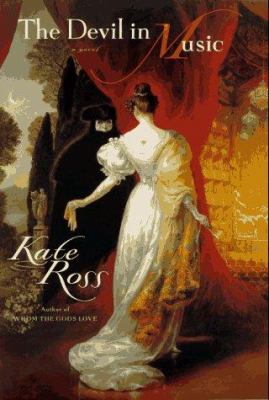 The Devil in Music
by Kate Ross

Library Journal : Ross's historical mysteries featuring English dandy Julian Kestrel (e.g., Whom the Gods Love, LJ 4/1/95) have earned a loyal following. This fourth entry in the series moves Kestrel from his usual London haunts to Milan and moves Ross from trade paperback to hardcover status. While traveling the Continent with his friend, Dr. MacGregor, Kestrel reads of the recent uncovering of a four-year-old murder involving the aristocratic Malvezzi family and decides to try out his investigating skills once again. The victim was Lodovico Malvezzi, a Milanese marquis and famed music lover. Given his imperious manner, suspects are all to easy to find, especially among his family. Added to the mystery of his death are the disappearances of a talented musical protege of the marquis and a surly servant, various intrigues related to Italian politics, and rebellions. Kestrel is undaunted by these challenges but finds Malvezzi's beautiful young widow a dangerous distraction. While the plotting is not as tight as in previous novels, the final chapters are replete with enough revelations and twists to please Ross's fans and leave them looking forward to the next novel.
Jan Blodgett, Davidson Coll., Davidson, N.C. Distributed by Syndetic Solutions Inc. Terms

Publishers Weekly : Calling upon his abundant knowledge of the Vatican's inner workings, Sheehan (Innocent Darkness) gives a view of modern Catholic church history as seen through the eyes of Augustine Cardinal Galsworthy, a man of legendary intellect, pride, sensuality and refinement, who wants to be pope. The story begins on the eve of the third millennium. A conclave of cardinals has assembled shortly after the death of their beloved "Slav Pope" to elect his successor. As the cunning cardinal wheels and deals his way toward election, he recalls the story of his life to this point. An awkward, lonely, stammering child, he grew into a man whose intelligence, ambition and charisma propelled him through the ranks to become the youngest cardinal in the church. From his hard-won position as papal advisor, he has counseled a succession of popes on ecclesiastical and personal issues and has zealously managed the "offerings" stowed away in Swiss bank accounts, all the while battling to preserve traditional Catholicism in the wake of Vatican II reforms. As Sheehan takes pains to show, the cardinal's preoccupations are not all temporal or political. On trips to the Congo and Somalia, he ministers passionately to the starving and diseased multitudes. Self-possessed in every sense of the word, Sheehan's crafty cardinal recalls such saintly Machiavellians as Browning's Bishop Bloughram and Strachey's Cardinal Manning. It should come as no surprise that the supporting cast often fades into the scenery while Cardinal Galsworthy's morally ambiguous triumphs and sufferings dominate this tale. Author tour.
Copyright 1997 Cahners Business Information, Inc. Distributed by Syndetic Solutions Inc. Terms