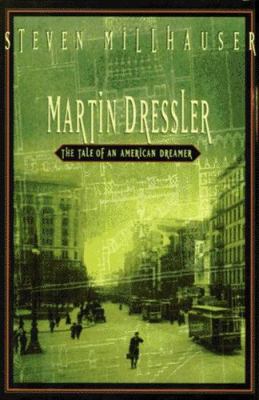 Martin Dressler
by Steven Millhauser

Library Journal : This story of a 19th-century New York entrepreneur by the author of Edwin Mullhouse (LJ 8/15/72) both introduces the scenery and feeling of the times and provides a psychological portrait of an American dreamer named Martin Dressler. Dressler starts out in his family's cigar store but gets into the hotel industry at an early age and moves up rapidly, thanks to his energy and vision. His ambition leads him to take on increasingly extravagant projects, from lunch rooms to larger and larger hotels to the Grand Cosmo, his vision of a world unto itself, which does not succeed. His relationship with two sisters, one beautiful but passive (who becomes his wife), the other energetic and businesslike, effectively develop the internal transitions of his character. While the wife is a pallid creation, Dressler himself is a beautifully realized character. Millhauser keeps the plot going smoothly with touching prose that occasionally approaches the mystical. Recommended for public libraries.
Ann Irvine, Montgomery Cty. P.L., Md. Distributed by Syndetic Solutions Inc. Terms

Publisher's Weekly : Literature's romance with the building-as-metaphor earns new energy through Millhauser's latest novel (after Little Kingdoms, 1993), which quietly chronicles the life of an entrepreneur whose career peaks when he builds a fabulous hotel in turn-of-the-century Manhattan. Beginning with his first jobs-in his father's cigar shop and as a bellhop-young Martin's rise is fueled by a happy blend of pragmatism and imagination. Both inform the design of the cafes and hotels he builds as an adult, though the latter seems to gain sway in the construction of his magnum opus, the Grand Cosmo. Within the rusticated walls of that grand hotel, one floor's elevators open onto "a densely wooded countryside" dotted with cottages; another floor simulates a rugged mountainside, featuring "caves" furnished with beds, plumbing and "refrigerated air." For recreation, guests can wander in the artificial moonlight of the Pleasure Park or visit the Temple of Poesy, where young women in Green tunics will recite poetry, 24 hours a day. Such amenities speak of Dressler's view of the hotel as "a world within the world, rivaling the world." In deliberate contrast stands Millhauser's cooler evocation of his protagonist's private life. The magnate's genial sister-in-law works for him, while the troubles of his neurasthenic wife-"his sister's sister, his tense, languous, floating, ungraspable bride"-reflect his increasingly manic, untethered imaginings. Millhauser's characteristic fascination with the material artifacts of the vanished past-and the startling deftness with which he can describe the street, the carnival, the hotel that never existed-marks him as a cultural historian as well as an idiosyncratic fabulist. Taking its place alongside other fine tales of architectural symbology, from Poe to Borges to Ayn Rand, this enticing novel becomes at once the tale of a life, a marriage and a creative imagination in crisis.
Copyright 1996 Cahners Business Information, Inc. Distributed by Syndetic Solutions Inc. Terms