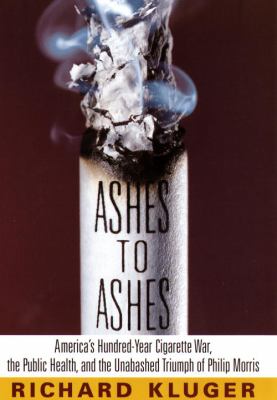 Ashes to Ashes
by Richard Kluger

Library Journal : Two recent releases chronicle the history of the current political status of the controversial tobacco industry from different vantage points. Kluger's (The Paper, LJ 10/15/87) Ashes to Ashes is riveting and highly readable despite its length. From the Native American usage of tobacco through the lawsuits of the 1990s, Kluger follows the industry's agricultural and labor practices, technical advances, and marketing campaigns; he also considers research on tobacco's deleterious health effects and the tobacco control movement. Significant personalities and events such as the invention of the cigarette-rolling machine are featured. An extensive bibliography is provided, and a lengthy list of the Phillip Morris executives (and ex-executives!) are interviewed. Suitable for readers of high school age on up, this book belongs in every library. Much more scholarly, The Cigarette Papers focuses more on one company--Brown & Williamson--and one issue--health effects. In 1994, Glantz received an anonymous package containing thousands of pages of internal documents from Brown & Williamson. The author's analysis of these indicate that, public statements to the contrary, the company did indeed know about the health and safety effects of their products and actively sought to suppress the information. The documents, made available by the University of California via the Internet (http://www.library.ucsf.edu/tobacco), are quoted extensively. Also included is a statement by Brown & Williamson in response to the 1995 publication of some of these data in the Journal of the American Medical Association. This work is extemely thorough and at times makes for tedious reading. Recommended for academic and large public libraries.
Eris Weaver, Marin Inst. for the Prevention of Alcohol & Other Drug Problems, Rohnert, Cal. Distributed by Syndetic Solutions Inc. Terms

Publisher's Weekly : The time is right for a comprehensive history of cigarettes in America and their effect on public health and the economy. This book, passionate yet measured, bulky but absorbing, looms as definitive. Kluger (Simple Justice) traces the rise of the cigarette to the onset of mass production in the late 19th century. He moves forward with cross-cutting stories, about the barons and hucksters who developed the industry, the slow rise of medical and civic concern over smoking and the industry's increasingly obfuscatory and combative stance. Kluger has harsh words for government regulators, long too timid to take on a powerful industry. And while he ultimately indicts industry leader Philip Morris, his narrative suggests that the company, which has moved overseas and also diversified into the food business, has been managed with supreme savvy. Kluger concludes with an innovative policy remedy: because the tobacco companies will inevitably lose big in court someday, why not trade a federal exemption from lawsuits for limits on advertising, higher cigarette taxes, an end to tobacco price supports and required reductions on tar and nicotine?
Copyright 1996 Cahners Business Information, Inc. Distributed by Syndetic Solutions Inc. Terms