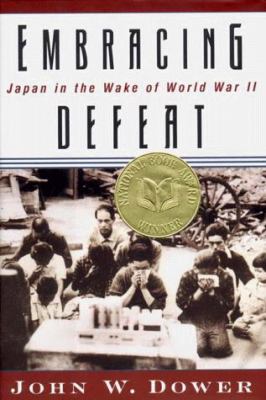 Embracing Defeat: Japan in the Wake of World War II
by John W. Dower

Library Journal : Conventional histories treat the U.S. occupation of Japan (1945-52) as an exercise in which benevolent Americans conferred the blessings of democracy on the defeated feudal fascist foe. The persona of Gen. Douglas MacArthur looms large in such accounts, and the focus is usually on American policies. Dower's approach is very different. He transports us inside Japan to experience this brief but vital period of modern Japanese history in all its richness and complexity. Poignant scenes of trauma, degradation, bewilderment, and poverty alternate with those of hope, initiative, energy, and creativity as Japanese from many walks of life seized the opportunity to regenerate their own society along more egalitarian and democratic lines. In re-creating the American occupation as a Japanese experience, Dower (War Without Mercy, LJ 4/1/86) has produced nothing less than a masterpiece of modern history. Erudition, empathy, accessibility, dry humor, and narrative power combine to make this book an important and beautifully written work that belongs in all libraries.
Steven I. Levine, Boulder Run Research, Hillsborough, NC Distributed by Syndetic Solutions Inc. Terms

Publishers Weekly : The writing of history doesn't get much better than this. MIT professor Dower (author of the NBCC Award-winning War Without Mercy) offers a dazzling political and social history of how postwar Japan evolved with stunning speed into a unique hybrid of Western innovation and Japanese tradition. The American occupation of Japan (1945-1952) saw the once fiercely militarist island nation transformed into a democracy constitutionally prohibited from deploying military forces abroad. The occupation was fraught with irony as Americans, motivated by what they saw as their Christian duty to uplift a barbarian race, attempted to impose democracy through autocratic military rule. Dower manages to convey the full extent of both American self-righteousness and visionary idealism. The first years of occupation saw the extension of rights to women, organized labor and other previously excluded groups. Later, the exigencies of the emergent Cold War led to American-backed "anti-Red" purges, pro-business policies and the partial reconstruction of the Japanese military. Dower demonstrates an impressive mastery of voluminous sources, both American and Japanese, and he deftly situates the political story within a rich cultural context. His digressions into Japanese culture--high and low, elite and popular--are revealing and extremely well written. The book is most remarkable, however, for the way Dower judiciously explores the complex moral and political issues raised by America's effort to rebuild and refashion a defeated adversary--and Japan's ambivalent response to that embrace. Illustrations.
Copyright 1999 Cahners Business Information, Inc. Distributed by Syndetic Solutions Inc. Terms