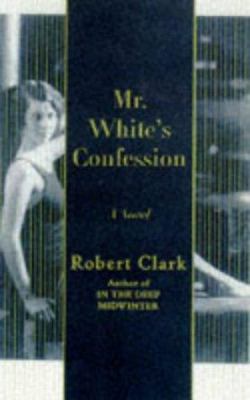 Mr. White's Confession
by Robert Clark

Library Journal : Is solitary eccentric Herbert White involved in the murders of two young women, or is his short-term memory failure really pathological, as he claims? As in the author's acclaimed first novel (In the Deep Midwinter, LJ 12/96), this psychological mystery is set in Minnesota in the mid-20th century. Wesley Horner is a seemingly hardened police lieutenant with a tragically fragmented family. The triumph of his pursuit and capture of pitiful suspect Herbert is cut short, however, when Horner's new sweetheart thinks that the man might be innocent. Fellow officer Welshinger is a bit too conscientious in extracting a confession from White. Damning evidence telegraphs to the reader the identity of the real murderer, since the real point is not whodunit but whether or not the truth will emerge. A literary treat for procedural fans, this belongs in all libraries.
Margaret A. Smith, Grace A. Dow Memorial Lib., Midland, MI Distributed by Syndetic Solutions Inc. Terms

Publishers Weekly : By opening with a long epigraph from St. Augustine's Confessions (in the original Latin, no less), Clark's ambitious, atmospheric rumination on good, evil and the gray area in between announces intentions far loftier than those of the standard dime-store detective novels to which the book bears an intentional but superficial resemblance. Set in St. Paul, Minn., in the bleak winter of 1939, this high-brow thriller retains enough lowdown grit and grime to qualify as both a suspenseful read and a surprisingly touching character study. When two young "dime-a-dance" girls are murdered, tough-as-nails homicide cop Lieutenant Wesley Horner hones in on eccentric recluse and amateur photographer Herbert White as the prime suspect. Looking like a cross between Humpty Dumpty and Paul Bunyan, and equally obsessed with Hollywood starlet Veronica Galvin and the voluminous scrapbooks and journals he keeps in order to compensate for his (narratively convenient) memory loss, White takes the fall with sympathetic dignity: astute readers will have fingered the real culprit many pages earlier. The true mysteries here are psychological: Horner's morally suspect relationship with teenage drifter Maggie is particularly fascinating. Having previously written a biography of James Beard (The Solace of Food), a cultural history of the Columbia River (River of the West) and a critically lauded first novel (In the Deep Midwinter), Clark here seesaws, most often successfully, between hard-boiled cliches and an earnest, self-conscious concern with the natures of memory and love. Author tour.
Copyright 1998 Cahners Business Information, Inc. Distributed by Syndetic Solutions Inc. Terms