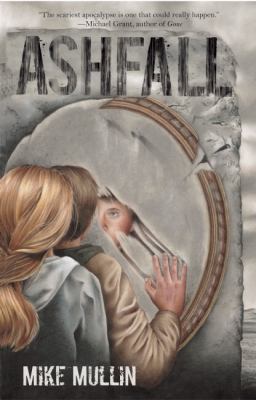 Ashfall
by Mullin, Mike


Book list Alex, 15, is alone at home in Cedar Falls, Iowa, when his house collapses, as thick black ash falls from the sky. A supervolcano in Yellowstone National Park has erupted 900 miles away, all power is out, and the horrendous noise of the aftermath does not stop. Alex takes off through the never-ending darkness, stench, corpses, and tumult to try to find his family who had been vacationing. Along the way, he meets smart, tough Darla, an engineering whiz, and together they fight through the post-eruption world. The step-by-step survival journey may be too graphic for some, especially the detailed descriptions of filth, hunger, and injuries as the teens scavenge for food, water, and shelter; run from a brutal FEMA refugee camp; fight off looters; and witness unspeakable violence (a woman tells them she saw her husband roasted on a spit). This catastrophic vision is rooted in realism that is extended by a concludingnote about the story's scientific connections, and Alex's voice is right on, especially in his romance with fierce, angry Darla. Of course, a sequel is coming.--Rochman, Hazel Copyright 2010 Booklist
From Booklist, Copyright © American Library Association. Used with permission.
School Library Journal Gr 8 Up-Alex, 15, is separated from his family when the Yellowstone supervolcano erupts. The eruption leaves his world in confusion, with no infrastructure and drifts of ash everywhere. He decides that he must leave his home in Iowa to seek out his family, who were traveling toward Pennsylvania when the explosion occurred. Alex uses his Tae kwon do skills to keep himself safe as he skis over the ash. Food is in short supply for everyone. Eventually he is taken in by Mrs. Edmunds and her daughter, Darla. When tragedy strikes, Alex and Darla must set out on their own to find safety and food. Not surprisingly, along the way, a romantic attraction develops between them. Ultimately, they must figure out how to survive in a refugee camp. The conclusion is satisfying, but unresolved enough to indicate the beginning of what appears to be a planned trilogy. The tough self-sufficiency of the two lead characters (Alex's Tae kwon do coupled with Darla's automotive prowess) adds to their appeal. The romance develops believably over the course of the book. Tautly paced and well researched, this is a high-action read-alike for fans of Susan Beth Pfeffer's Life As We Knew It (Harcourt, 2006).-Kristin Anderson, Columbus Metropolitan Library System, OH (c) Copyright 2011. Library Journals LLC, a wholly owned subsidiary of Media Source, Inc. No redistribution permitted.
(c) Copyright 2010. Library Journals LLC, a wholly owned subsidiary of Media Source, Inc. No redistribution permitted.
Publishers Weekly In this grim, postapocalyptic tale, the Yellowstone supervolcano erupts, covering much of North America in volcanic ash and plunging the world into nuclear winter. Fifteen-year-old Alex Halprin refused a family trip to visit relatives in Illinois, so he's home alone in Iowa when the eruption occurs. After seeing a neighbor kill three looters, Alex heads east through falling ash, dropping temperatures, and torrential storms, hoping to find his family. Soon he's joined by another survivor, Darla Edmunds, with whom he falls in love. Debut novelist Mullin puts his characters through hell, depicting numerous deaths in detail ("Blam-Blam! His head pretty much burst, showering my legs with blood and bits of hair and skull and brain"). There's also cannibalism and a rape before the novel comes to a believable ending; "happy" is perhaps too much to ask for, but Alex does find a measure of stability. The book is well written and its protagonists are well-drawn, particularly the nontraditional and mechanically inclined Darla. Although more appropriate for older teens due to its violence, this is a riveting tale of survival. Ages 14-up. (Oct.) (c) Copyright PWxyz, LLC. All rights reserved.
(c) Copyright PWxyz, LLC. All rights reserved