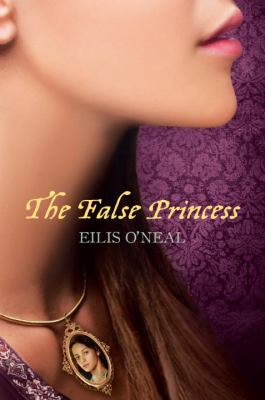 The False Princess
by O'Neal, Eilis


School Library Journal Gr 7 Up-One day after her 16th birthday, Nalia, the Princess of Thorvaldor, learns that she isn't "Nalia" after all. She is Sinda, a poor peasant who has been used as a decoy to save the true princess. Because of a prophecy that foresaw her death before her 16th birthday, the true Nalia was sent to a convent where she was kept safe. Now, she returns to Thorvaldor, and Sinda is sent to live with her aunt in Treb, where she struggles with her new identity and misses the king and queen, the only parents she ever knew, and Kiernan, her best friend. When a friend betrays her trust, she becomes overwhelmed and magic begins bursting out of her-magic that she didn't know she possessed and can't control. She goes back to Thorvaldor and becomes a scribe to the eccentric Philantha. One night, she watches someone put a spell on Nalia, or the girl who she thought was Nalia. It is the same spell that was repeatedly put on Sinda to hide her true identity during her first 16 years. Could there be another decoy? Who is deceiving the king and queen? The plot line is unpredictable, causing readers to be pulled along with each page turn to find out what will happen next. The thick character descriptions allow for teens to empathize and put themselves in the place of Sinda and the others. The characters are dealing with the angst of change and identity development, so readers can really relate to the issues that come up in this exciting story. Written from Sinda's perspective, this book takes readers on a wild ride of deception, mystery, and young love.-Kathryn Kennedy, Georgia Southern University, Statesboro, GA (c) Copyright 2011. Library Journals LLC, a wholly owned subsidiary of Media Source, Inc. No redistribution permitted.
(c) Copyright 2010. Library Journals LLC, a wholly owned subsidiary of Media Source, Inc. No redistribution permitted.
Book list Young readers who have ever wondered if they are in the right family might heed O'Neal's fantasy as a cautionary tale. Princess Nalia was switched at birth, when the king and queen of Thorvaldor hid their infant daughter to avoid a deadly curse due before her sixteenth birthday. A stand-in princess was arranged and then cruelly torn from the palace when the danger had passed. Now called Sinda, the forme. princes. lives a hardscrabble existence as scribe to a minor wizard. Bright and plucky, Sinda does not meekly slip away. She comes to realize she holds magic powers that need taming, and she also uncovers a good deal of palace intrigue connected to master wizard Melaina, and even a second birth switch that has ensconced the latter's daughter in the palace in place of the true princess. Who will believe Sinda? Brave and clever Kiernan, a good friend from her palace days, helps her plot and triumph. This novel crackles with adventure and suspense and will delight fans with its blend of wizardry and court life.--O'Malley, Ann. Copyright 2010 Booklist
From Booklist, Copyright © American Library Association. Used with permission.
Publishers Weekly Just after her 16th birthday, the princess of Thorvaldor finds out she is no princess at all, but a peasant girl named Sinda Azaway, switched at birth with the real princess after a prophesy predicted the royal's death; Sinda has ceased to be useful to the king and queen now that the fated birthday of their real daughter has passed. Readers will feel for Sinda, who's immediately exiled from palace life, sent to live with an unknown aunt, and burdened with having lived a lie. Debut novelist O'Neal deftly draws a protagonist to root for as Sinda forges a new identity, comes into her own as a talented wizard, and discovers further royal intrigue. Sinda's sadness and anger feel righteous, never grating, and O'Neal quickly buoys Sinda's new life with her best friend from the palace, Kiernan, who proves his loyalty, and a wonderful teacher in the eccentric Philantha, who takes Sinda in as a wizard's apprentice. Fans of Shannon Hale will enjoy this compelling fantasy, which is filled with magic, political drama, and romance. Ages 10-up. (Jan.) (c) Copyright PWxyz, LLC. All rights reserved.
(c) Copyright PWxyz, LLC. All rights reserved