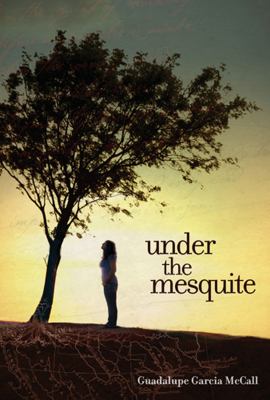 Under the Mesquite
by McCall, Guadalupe Garcia


School Library Journal Gr 7 Up-This stunning debut novel in verse chronicles the teenage years of Lupita, a character drawn largely from the author's own childhood. Poised to enter her freshman year in high school, Lupita comfortably straddles the country of her birth, Mexico, and that of her family's adoptive country, the United States. She and her seven siblings live with their Mami, a gifted gardener and tender of her brood, and Papi, a hardworking construction worker. When her mother is diagnosed with cancer, the disease begins to sap the family's lives both emotionally and financially. The simplicity of the story line belies the deep richness of McCall's writing. Lupita, a budding actress and poet, describes the new English words she learned as a child to be "like lemon drops, tart and sweet at the same time" and ears of corn as "sweating butter and painted with chili-powdered lime juice." Each phrase captures the essence of a moment or the depth of her pain. The power of Lupita's story lies also in the authenticity of her struggles both large and small, from dealing with her mother's illness to arguments with friends about acculturation. This book will appeal to many teens for different reasons, whether they have dealt with the loss of a loved one, aspire to write and act, are growing up Mexican American, or seeking their own identity amid a large family. Bravo to McCall for a beautiful first effort.-Jill Heritage Maza, Montclair Kimberley Academy, Montclair, NJ (c) Copyright 2011. Library Journals LLC, a wholly owned subsidiary of Media Source, Inc. No redistribution permitted.
(c) Copyright 2010. Library Journals LLC, a wholly owned subsidiary of Media Source, Inc. No redistribution permitted.
Book list Like the mesquite tree of the title, Lupita is sturdy and able to survive harsh climates with great potential for recovering from stress. Told in verse sprinkled with Spanish terms (a glossary is included), this story of Lupita's high-school years details her increasing responsibility within her large Mexican American family after Mami is diagnosed with cancer. Caring for seven younger siblings, keeping up with schoolwork and her drama roles, and staying connected with her classmates and friends while the worries gnaw at her take their toll, but she is strong. There are also moments of intense vulnerability. As high-school graduation nears, Lupita sees that her mother may not be there for it: Suddenly I realize / how much I can't control, how much / I am not promised. The close-knit family relationships, especially Mami and Lupita's, are vividly portrayed, as is the healing comfort Lupita finds in words, whether written in her notebooks or performed onstage.--Dobrez, Cindy Copyright 2010 Booklist
From Booklist, Copyright © American Library Association. Used with permission.