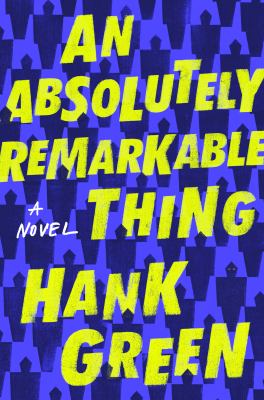 An Absolutely Remarkable Thing
by Hank Green


Library Journal DEBUT This widely anticipated debut from vlogger Green (Vlogbrothers), the brother of best-selling YA author John Green, lands in our midst much as one of its central characters, the Carls, do. Coming home from work late one evening, April May nearly crashes into a massive robot (is it street art? a statue?) in New York City. Chastising herself for nearly walking away without taking time to appreciate the wonder of artistic expression, she returns, calls her friend Andy, and together they film a video of the object, which they name Carl. The next day the video has gone viral and there are Carls in cities around the world. April is rocketed into social media stardom and has to decide what to do with her newfound fame. Caught between people trying to manage her and those who know her best, April tries to find her way through to fight for the Carls and for humanity. Is it so terrible if she makes some money along the way? VERDICT Led by an earnestly flawed, bisexual heroine with direction and commitment issues, coupled with an abundant generosity of spirit, this read is timely and sorely needed. Highly recommended. [See Prepub Alert, 4/9/18.]-Julie Kane, Washington & Lee Lib., Lexington, VA © Copyright 2018. Library Journals LLC, a wholly owned subsidiary of Media Source, Inc. No redistribution permitted.
(c) Copyright Library Journals LLC, a wholly owned subsidiary of Media Source, Inc. No redistribution permitted.
Publishers Weekly The younger Vlogbrother (John Green is the other) draws on his passion for science and his experience as a "Tier 3" celebrity ("You'll probably trend on Twitter if you die") for a comic debut that combines science fiction and mystery with philosophical musings about the perils of internet fame. His main character, the unfortunately named April May, is a recent art-school grad who happens upon a 10-foot-tall robotic sculpture in the darkened streets of Lower Manhattan. Entranced, she summons Andy, a classmate with a video camera, and the two introduce the figure they dub Carl to the world via YouTube. April May becomes a celebrity but soon discovers that dozens of Carls have appeared in cities across the globe. As she and her friends search for an explanation, she struggles with her newfound addiction to fame and the damage it causes to her most important relationships. April May's narration, which doesn't fully work, is both self-effacing and contradictory: she bemoans how much she enjoys fame while cynically crafting a message stressing community, which she determines will best resonate with her fans, thus growing her fame. Though the ending is disappointing (it appears to be setting up a sequel), fans of Green's YouTube channel will find his humor and perceptiveness intact in this novel. (Sept.) © Copyright PWxyz, LLC. All rights reserved.
(c) Copyright PWxyz, LLC. All rights reserved