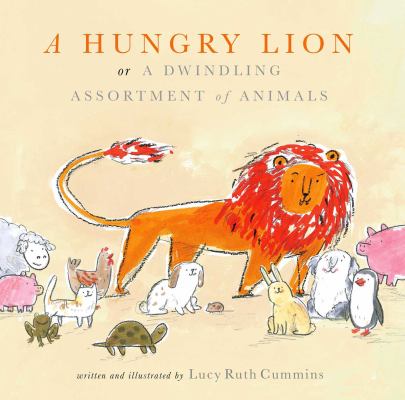 A Hungry Lion; or, A Dwindling Assortment of Animals
by Lucy Ruth Cummins


School Library Journal K-Gr 3-With its macabre humor and delightfully scribbly illustrations, this tale is sure to delight a wide audience of children. Using a metafiction style, the author starts the book with "Once upon a time, there was a hungry lion, a penguin, a turtle, a brown mouse, those two rabbits, etc.," but must stop and repeatedly revise the list as the bevy of animals slowly dwindle to one smugly grinning lion and "that turtle." With several surprises, and some truly extraordinary full-page illustrations, this story winds itself to a laugh-out-loud ending that will tickle the unconventional funny bone. VERDICT Highly recommended for any library, sure to be a favorite read-aloud.-Jasmine L. Precopio, Fox Chapel Area School District, Pittsburgh, PA © Copyright 2016. Library Journals LLC, a wholly owned subsidiary of Media Source, Inc. No redistribution permitted.
(c) Copyright Library Journals LLC, a wholly owned subsidiary of Media Source, Inc. No redistribution permitted.
Publishers Weekly It's all very peaceable kingdom at the beginning of this ostensibly placid story. The ingenuous narrator introduces a self-possessed lion (marvelously drawn in rough pencil, charcoal, and a vigorous application of markers) and 13 cute animals, including "a pig, a slightly bigger pig, a woolly sheep, a koala, and also a hen." Though described as "hungry," the lion does not seem particularly threatening, but as the animals start euphemistically "dwindling," questions arise. Still, the narrator soldiers on, struggling to keep up as Cummins, an S&S art director making her debut as author-artist, keeps readers guessing-it's fitting that a book with as many "Once upon a time" beginnings as this one has more then one potential ending, some happier than others. Cummins's dizzy meta-tale has just enough wink and cheek to assure readers that it's all in good fun, and her visual style-sketchbook playful, slyly spiking sweet-seeming scenes with moments of menace and fear-should leave them hungering (in a nice way) for her next book. Ages 4-8. Agent: Emily Van Beek, Folio Literary Management. (Mar.) © Copyright PWxyz, LLC. All rights reserved.
(c) Copyright PWxyz, LLC. All rights reserved
Book list Meet one hungry lion and its menagerie of animal friends. Or are they friends? One by one, these animals disappear, while the lion remains hungry. Perhaps the lion is to blame, but could there be another explanation for these rapidly disappearing critters? Cummins' enjoyably repetitive text and droll illustrations give each animal a personality, despite their pending departure, from the stand-out sauciness of the lion to the affable nature of the ever-present turtle. The stark backgrounds play this up and allow each character to stand out. Of course, it's the brazen lion that drives the story: he gets in the reader's face, taking up the whole page with his loud red mane and cunning eyes, and seems curiously reserved throughout the ordeal. What's revealed is that the other animals have been preparing a birthday cake for the lion pretty great, right? Well, Cummins has a hilariously dark twist (two, actually) still to come. When this devilish book ends, there will, indeed, be only one animal left standing.--Dittmeier, Amy Copyright 2016 Booklist
From Booklist, Copyright © American Library Association. Used with permission.