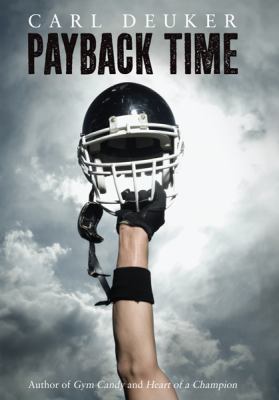 Payback Time
by Deuker, Carl


School Library Journal Gr 7 Up-Senior Daniel True is short, pale, and round, hence his nickname the Michelin Man, or Mitch, for short. His former elementary school best friend, Horst Diamond, is the star quarterback and BMOC at their Seattle high school. Mitch's ambition is to be an ace investigative reporter, a la Woodward and Bernstein, but the new editor of the school newspaper assigns him to cover sports. Worse still, Coach McNulty makes it clear that Mitch's job is to be Horst's cheerleader. McNulty intends to ride his star player to a college coaching job, and he won't let Mitch do anything to jeopardize that opportunity. While covering a practice, Mitch notices Angel Marichal, a senior transfer student. Angel is clearly the best athlete in the school, but McNulty keeps him hidden, playing second string, changing his jersey number, and denying any interview requests. Mitch knows that McNulty and Angel are hiding something, and he is determined to get to the bottom of it. What he finds is far different from what he suspects, and along the way his personal and journalistic ethics are tested. Deuker has crafted another entertaining and readable football story. The game descriptions are well done and will appeal to players and fans. Many teens who dreamed of being a star as children but don't make the team in high school will identify with Mitch.-Anthony C. Doyle, Livingston High School, CA (c) Copyright 2010. Library Journals LLC, a wholly owned subsidiary of Media Source, Inc. No redistribution permitted.
(c) Copyright 2010. Library Journals LLC, a wholly owned subsidiary of Media Source, Inc. No redistribution permitted.
Book list *Starred Review* Deuker (Gym Candy, 2003) really cranks up the suspense in his newest pageturner, combining a Seattle high-school football team's march toward the state championship game with a school reporter's investigation of an apparent ringer that the coach has slipped in to bolster the defense. Mitch doesn't think much of his new assignment as sports reporter, but when he sees how Coach McNulty keeps Angel a reclusive new student who shows star-quality abilities in practice benched until late in each hard-fought game his suspicions are aroused. Thrilled to think that he has caught wind of an actual cheating scandal, Mitch digs into Angel's past. What he discovers stirs up far more trouble than he has bargained for, and pitches him into a series of terrifying situations. The game action alone is riveting even for readers who don't know a naked bootleg from a hook-and-ladder play, but Deuker enriches the tale with several well-tuned subplots and a memorable narrator/protagonist who turns a corner on his own self-image while weathering brutal tests of his courage and determination. Definitely one for the top shelf.--Peters, John Copyright 2010 Booklist
From Booklist, Copyright © American Library Association. Used with permission.