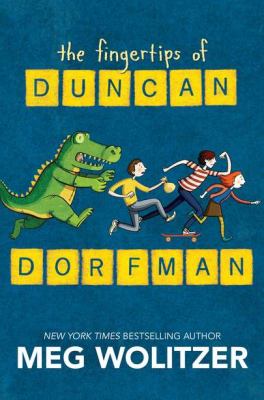 The Fingertips of Duncan Dorfman
by Meg Wolitzer


School Library Journal Gr 4-7-Three kids meet at a youth Scrabble tournament and help one another work through various issues. Nate has an overly competitive father, while April wants to get noticed by her sports-obsessed family. Duncan's situation is more complicated: he has the power to see things with his fingers, a potential secret weapon in Scrabble games. This fantastic element fits awkwardly into an otherwise realistic novel, and the fact that Duncan barely uses his talent for anything but Scrabble seems odd. The boy's eventual principled actions are offset by a dishonest ruse he uses, behind his mother's back, to get into the tournament. The narrative switches smoothly to capture the points of view and experiences of the three protagonists, although personalities and feelings are frequently spelled out rather than shown through action or dialogue. An anticlimactic attempt by a former player to sabotage the tournament fails to add much drama. Though Duncan is the only character with much depth, the other kids are likable and appealing, and the Scrabble background is neatly rendered in a way that even nonplaying kids can enjoy. The inclusion of tricky game strategies and insider terms like "vowel dumps" and "coffeehousing" bring the tournament scene to life, and the players all have different, believable reasons for their connection to the game. Consider for fans of "puzzle novels" Eric Berlin's "Winston Breen" books (Putnam) and Jody Feldman's The Gollywhopper Games (Greenwillow, 2008).-Steven Engelfried, Wilsonville Public Library, OR (c) Copyright 2011. Library Journals LLC, a wholly owned subsidiary of Media Source, Inc. No redistribution permitted.
(c) Copyright 2010. Library Journals LLC, a wholly owned subsidiary of Media Source, Inc. No redistribution permitted.
Book list Duncan Dorfman is adjusting to life in a new Michigan town with his struggling single mom, who lands a job at a local big-box store run by a rarely-seen millionaire. After moving, Duncan finds that he can discern letters with the fingertips of his left hand, which helps him choose needed tiles after he joins the school Scrabble club. Eventually, Duncan's skills bring him to the national Scrabble tournament in Florida, where he meets two other young Scrabble players: a boy from New York City, who has a fraught relationship with his father, and a girl who tries to prove her worth in a family of athletes. As the kids get to know each other, they take a side trip to a crumbling, sinister amusement park, which launches them into an unexpected adventure. At the novel's end, the focus returns back to Duncan, who discovers a surprise about a family secret. The overpacked plot drags a bit, but readers who stick with it will be rewarded with portraits of winning, well-drawn kids struggling to succeed in a complicated world.--Morning, Todd Copyright 2010 Booklist
From Booklist, Copyright © American Library Association. Used with permission.
Publishers Weekly The lives, families, and story lines of three 12-year-olds intersect at the annual Youth Scrabble Tournament in adult author Wolitzer's (The Uncoupling) entertaining middle-grade debut. Possessing a supernatural power that gives him an unfair advantage in Scrabble, the title character wrestles with his conscience and a desire for increased social status offered by his conniving partner. Meanwhile, Nate's obsessed father homeschools him in Scrabble only, hoping his son will win the tournament he lost in his youth, and April's sports-fixated family cannot comprehend word games. Themes of competition, passion bordering on mania, and teamwork weave through the narrative, as the protagonists face the consequences of parental choices and flaws-which provide plentiful humorous moments-and contend with ethical struggles of their own. The tournament proves a great equalizer as families wealthy and poor, blended and nuclear, enthusiastic and indifferent support their children's ambitions, and quirky players meet kindred souls from many different corners of the country. Readers don't have to be Scrabble enthusiasts to enjoy this novel, though a passion for it may well develop by the end. Ages 8-12. (Sept.) (c) Copyright PWxyz, LLC. All rights reserved.
(c) Copyright PWxyz, LLC. All rights reserved