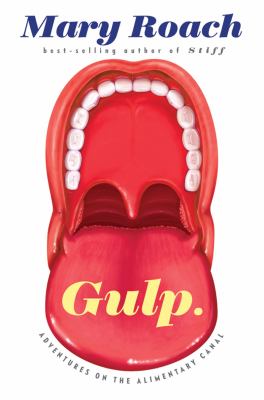 Gulp
by Mary Roach


Book list *Starred Review* In her latest rollicking foray into taboo, icky, and underappreciated aspects of the human body, best-selling science writer Roach takes readers on a wild ride down the alimentary canal. Not that the author of Stiff (2003), Bonk (2008), and Packing for Mars (2010) ever takes a direct route anywhere. No, voraciously curious and intrepid Roach zips off in whatever direction her ardor for research and irrepressible instinct for the wonderfully weird lead her. She begins this hilarious, mind-expanding inquiry into eating, digestion, and elimination with the symbiosis between smell and taste, guided by an olfactorily gifted sensory analyst, then profiles Horace Fletcher, proponent of a rigorous chewing routine known as Fletcherizing practiced by Henry James and Franz Kafka. We learn more than one can imagine about saliva and our passion for crispy and crunchy foods. Given Roach's fascination with what we find disgusting, scientific obsessions and bizarre experiments, and horrifying things we do to ourselves, the stories get stranger as she proceeds down the body. Roach interviews a prison inmate about rectal smuggling (including cell phones), tells tales of flatulence, and reveals the truth about Elvis Presley's fatal megacolon. For all her irreverence, Roach marvels over the fine-tuned workings and wisdom of the human body, and readers will delight in her exuberant energy, audacity, and wit.--Seaman, Donna Copyright 2010 Booklist
From Booklist, Copyright © American Library Association. Used with permission.
Library Journal Best-selling popular science writer Roach (Packing for Mars: The Curious Science of Life in the Void) turns her attention here to the alimentary canal. Roach asks the questions that some readers may have always wondered: Does saliva have curative properties? Do pets taste food differently than their owners do? Could Jonah have survived three days in a whale's stomach? Could Americans lower the national debt by chewing their food more thoroughly? As she investigates these questions, Roach encounters many an eccentric scientist who has worked tirelessly to unlock the mysteries of saliva, gastrointestinal gases, and mastication. As she recounts her adventures in tasting centers and laboratories, she aims not to disgust readers, but to inspire curiosity-even awe-for the most intimate functions of the human body. VERDICT Filled with witty asides, humorous anecdotes, and bizarre facts, this book will entertain readers, challenge their cultural taboos, and simultaneously teach them new lessons in digestive biology.-Talea Anderson, Ellensburg, WA (c) Copyright 2013. Library Journals LLC, a wholly owned subsidiary of Media Source, Inc. No redistribution permitted.
(c) Copyright 2010. Library Journals LLC, a wholly owned subsidiary of Media Source, Inc. No redistribution permitted.
Publishers Weekly Roach (Stiff) once again goes boldly into the fields of strange science. In the case of her newest, some may hesitate to follow-it's about the human digestive system, and it's as gross as one might expect. But it's also enthralling. From mouth to gut to butt, Roach is unflinching as she charts every crevice and quirk of the alimentary canal-a voyage she cheerily likens to "a cruise along the Rhine." En route, she comments on everything from the microbial wisdom of ancient China, to the tactics employed by prisoners when smuggling contraband in their alimentary "vaults," the surprising success rate of fecal transplants, how conducting a colonoscopy is a little like "playing an accordion," and a perhaps too-good-to-be-true tale in the New York Times in 1896 of a real-life Jonah surviving a 36-hour stint in the belly of a sperm whale. Roach's approach is grounded in science, but the virtuosic author rarely resists a pun, and it's clear she revels in giving readers a thrill-even if it is a queasy one. Adventurous kids and doctors alike will appreciate this fascinating and sometimes ghastly tour of the gastrointestinal system. 18 illus. Agent: Jay Mandel, WME Entertainment. (Apr.) (c) Copyright PWxyz, LLC. All rights reserved.
(c) Copyright PWxyz, LLC. All rights reserved