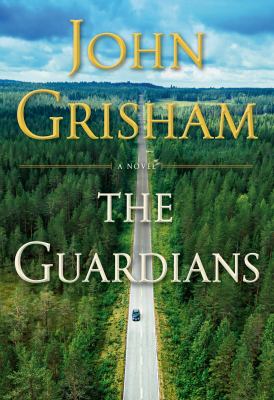 The Guardians
by John Grisham


Library Journal This just in: a new legal thriller is coming in October from the No. 1 New York Times best-selling author. No word on plot, but eminently purchasable.
(c) Copyright Library Journals LLC, a wholly owned subsidiary of Media Source, Inc. No redistribution permitted.
Book list Cullen Post works for the Guardian Ministries, a shoestring operation that tries to get wrongfully convicted people out of jail. At the top of Post's to-do list is a Black man, Quincy Miller, who has been in prison for 22 years after being convicted of the murder of his divorce lawyer. But the evidence is shaky at best: the shotgun used in the crime was never found, and a flashlight with a supposed blood spatter disappeared from evidence. Further bolstering Post's case, an expert who testified for the prosecution about the blood spatter on the missing flashlight has since been discredited as a charlatan. Post thinks Miller may have been the fall guy for a drug-cartel hit. The murdered lawyer took minor civil cases to keep up appearances, but his primary moneymaker was the drug cartel. If the cartel can keep the murder pinned on Miller, it's in the clear. Grisham novels have a cinematic feel to them. A Time to Kill (1989), The Firm (1991), and The Rainmaker (1995) have all been successful motion pictures. The Guardians could be next on the list; it's an excellent legal thriller with a strong social-justice component.HIGH-DEMAND BACKSTORY: Grisham's readers are legion, and they will be prepped for his latest, which finds the perennial chart-topper in great form.--Wes Lukowsky Copyright 2019 Booklist
From Booklist, Copyright © American Library Association. Used with permission.
Publishers Weekly A lack of nuance mars this novel from bestseller Grisham (The Reckoning), which centers on idealistic attorneys fighting wrongful convictions. Cullen Post, who became a Lutheran minister after burning out as a public defender, is working as a lawyer again in Savannah, Ga., where he runs Guardian Ministries, which helps convicts whose claims of innocence he and his three colleagues, including a man he helped free from incarceration, deem worth investigating. In the first chapter, Duke Russell is minutes away from execution when Post's request for a stay is granted, giving him time to pursue his belief that Duke wasn't in fact guilty of raping and murdering a woman 11 years earlier. Guardian Ministries is also seeking to prove that Quincy Miller is innocent of the shotgun murder of his former attorney, Keith Russo, in Seabrook, Fla., and deserves his freedom. Post and his allies diligently attack the flimsy forensic and eyewitness evidence used to convict Miller. A conspiracy subplot related to one of Post's cases, involving especially sadistic bad guys and an international angle, feels out of place. Readers who like their legal thrillers dosed with ethical ambiguities should look elsewhere. Agent: David Gernert, Gernert Company. (Oct.)
(c) Copyright PWxyz, LLC. All rights reserved