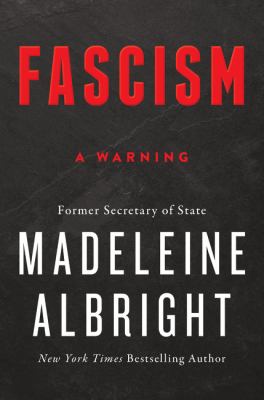 Fascism: A Warning
by Madeleine Albright with Bill Woodward


Book list *Starred Review* The founders of fascism Mussolini, Hitler, and Stalin and fascism's current practitioners Kim Jong-un, Vladimir Putin, and Recep Erdogan are profiled in former secretary of state and author Albright's (Prague Winter, 2012) cautionary primer on what democracy's antithesis looks like. Fascism is a term that is not easily nor universally defined, filtered, as it is, through the lens of personal biases and animosities. How, then, does one recognize fascism, and why is it important to do so now? Albright is forthright in stating that one reason is Donald Trump, and although her regime-by-regime analysis of fascism's genesis and evolution is not a de facto indictment of the current administration, it is a call to pay attention to the changes in America's national discourse and global standing under the Trump administration. Having fled both Hitler's Germany and Czechoslovakia's Communist uprising as a child, Albright's acquaintance with fascism is practically a part of her DNA. With America's global standing now downgraded from full democracy to flawed democracy by the Economist Intelligence Unit, this is no time for complacency. Albright outlines the warning signs of fascism and offers concrete actions for restoring America's values and reputation. There is priceless wisdom on every page.--Haggas, Carol Copyright 2018 Booklist
From Booklist, Copyright © American Library Association. Used with permission.
Book list *Starred Review* The founders of fascism Mussolini, Hitler, and Stalin and fascism's current practitioners Kim Jong-un, Vladimir Putin, and Recep Erdogan are profiled in former secretary of state and author Albright's (Prague Winter, 2012) cautionary primer on what democracy's antithesis looks like. Fascism is a term that is not easily nor universally defined, filtered, as it is, through the lens of personal biases and animosities. How, then, does one recognize fascism, and why is it important to do so now? Albright is forthright in stating that one reason is Donald Trump, and although her regime-by-regime analysis of fascism's genesis and evolution is not a de facto indictment of the current administration, it is a call to pay attention to the changes in America's national discourse and global standing under the Trump administration. Having fled both Hitler's Germany and Czechoslovakia's Communist uprising as a child, Albright's acquaintance with fascism is practically a part of her DNA. With America's global standing now downgraded from full democracy to flawed democracy by the Economist Intelligence Unit, this is no time for complacency. Albright outlines the warning signs of fascism and offers concrete actions for restoring America's values and reputation. There is priceless wisdom on every page.--Haggas, Carol Copyright 2018 Booklist
From Booklist, Copyright © American Library Association. Used with permission.
Publishers Weekly Yes, it can happen here-and in other countries-according to Albright's far-ranging exploration of the history and latter-day prospects of fascism. The Georgetown professor and former Clinton secretary of state identifies various characteristics of fascism, including hypernationalism and populism mixed with authoritarian-leaning rule, militarism, contempt for democratic customs, persecution of minority populations, a dread of disorder and decadence, charismatic leaders, and public spectacles. After probing accounts of the fascist models of Mussolini's Italy and Hitler's Germany, she finds that toxic brew in present-day Venezuela, Turkey, Hungary, Poland, Russia, North Korea, and right-wing parties generally. And then, she writes, there's Donald Trump, "the first anti-democratic president in modern U.S. history," whose bluster, "paranoid bigotry" against Muslims and immigrants, America-firstism, and rhetorical attacks on the press and judiciary set a fascistic example for world leaders and abdicate America's role as global protector of democracy. Albright's incisive analyses are enriched by her experiences as a refugee from Nazi-occupied Czechoslovakia-her Jewish grandmother died in a concentration camp-and as America's diplomat-in-chief; her vivid sketch of a surprisingly rational Kim Jong-Il anchors a sharp critique of Trump's erratic approach to North Korea. Albright sometimes paints with too broad a brush in conceptualizing fascism, but she offers cogent insights on worrisome political trends. (Apr.) © Copyright PWxyz, LLC. All rights reserved.
(c) Copyright PWxyz, LLC. All rights reserved