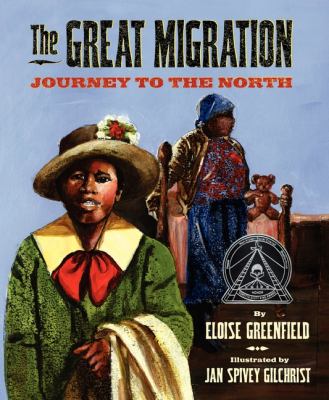 The Great Migration: Journey to the North
by Eloise Greenfield


School Library Journal K-Gr 8-In eloquent verse, Greenfield narrates the story of the migration during the years 1915-1930 of more than a million African Americans from the rural South to the industrial North in search of opportunity, employment, and fair treatment. The poems are arranged under five headings that represent the stages of the journey: "The News," "Goodbyes," "The Trip," "Question," and "Up North." Feelings of fear and apprehension resonate in the poetry, in the sad and hopeful voices of the men, women, and children who gave up all they knew and embarked on an unknown future. Simple words declare their reasons for going with quiet dignity, "Goodbye crazy signs, telling me/where I can go, what I can do," and share the immense pain of leaving. "Mama's making me go./She wants me to be happy/and safe. But I see the sadness/lying deep in her eyes." Gilchrist's illustrations gracefully complement the poetry; mixed-media collages incorporating line drawings, muted watercolor washes, newsprint clippings, photos, and sepia-toned illustrations depict warm family representations as well as stark desperation and anger. Greenfield's lyricism and her clear, narrative style make this book a solid choice for independent reading and for reading aloud. The Great Migration: An American Story (HarperCollins, 1993), illustrated with Jacob Lawrence's bold and moving paintings and including a verse by Walter Dean Myers, also portrays this historical event and can be used in conjunction with Migration.-Carole Phillips, Greenacres Elementary School, Scarsdale, NY (c) Copyright 2011. Library Journals LLC, a wholly owned subsidiary of Media Source, Inc. No redistribution permitted.
(c) Copyright 2010. Library Journals LLC, a wholly owned subsidiary of Media Source, Inc. No redistribution permitted.
Publishers Weekly Frequent collaborators Greenfield and Gilchrist (Brothers & Sisters: Family Poems) shape an evocative portrait of African-Americans who moved North during the Great Migration between 1915 and 1930 to escape Ku Klux Klan-fueled racism and to secure better lives. In forceful free verse, travelers bid farewell to what they've known. One man is conflicted about leaving his rural home ("Saying goodbye to the land puts a pain on my heart"), a woman can't wait to get away ("Goodbye, crazy signs, telling me where I can go, what I can do"), and a girl prepares to leave her mother ("I'm a little scared. I'm a lot scared. Off to the big city by myself, with just the church up there to lean on"). Chronicling the journey by train, lilting poetry and pictures capture a sense of both apprehension and hope: "Going to make it. No matter what." Making intriguing use of photographs of people, news headlines, maps, and painted elements, each of Gilchrist's collages has a distinctive look and lighting, ranging from conventional portraits of the travelers to more abstract images. Ages 3-8. (Jan.) (c) Copyright PWxyz, LLC. All rights reserved.
(c) Copyright PWxyz, LLC. All rights reserved
Book list *Starred Review* Between 1915 and 1930, more than a million African Americans left their homes in the South and moved to the North, says Greenfield in an introduction to this stirring collection of poems that honors those who took part in the Great Migration, including the poet herself. Each spread looks at a different stage in the journey, beginning with the uprooting: Saying goodbye to the land / puts a pain on my heart, says a farmer. The beat in Greenfield's free-verse poetry amplifies the feeling of momentum, from the way news travels They thought about it, talked about it, / spread the word to the rhythm of the train that is felt even in the northbound passengers' questions, Will I make a good life / for my family, / for myself? / The wheels are singing, / Yes, you will, / you will, you will!' / I hope they're right. / I think they're right. / I know they're right. Greatly enhancing the impact of the words, Gilchrist's moving mixed-media collages layer drawings, maps, and color-washed archival images that have the slightly distorted look of photocopies, giving some of the figures an almost ghostly, translucent appearance. Together, the immediate words, striking images, and Greenfield's personal story create a powerful, haunting view of a pivotal moment in U.S. history even as they show the universal challenges of leaving home behind and starting a new life. A bibliography concludes.--Engberg, Gillian Copyright 2010 Booklist
From Booklist, Copyright © American Library Association. Used with permission.