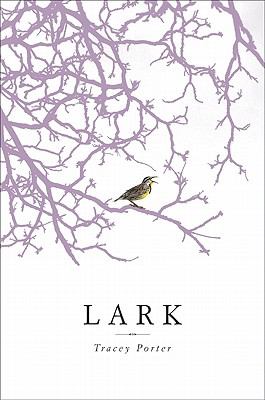 Lark
by Porter, Tracey


Publishers Weekly Neither character-driven nor plot-driven, middle-grade author Porter's first YA novel is a message-driven story about three teenage girls who have suffered at the hands of men. The 16-year-old title character has been stabbed, raped, and left to die of hypothermia in the woods near her home. Her voice alternates with those of two friends, Nyetta and Eve, who are coping with their own betrayals by men in their lives (Nyetta's father abandoned her family; Eve was molested by a coach). Lark, meanwhile, faces further victimization after her death-she will, like other murdered girls, be imprisoned forever in a tree if no one truly acknowledges what happened to her. It's neither clear what supernatural agency would inflict such a fate nor why the acknowledgement of law enforcement is insufficient, but Eve and Nyetta must come to terms with their own lives, and with Lark's death, for all three to move on. Porter (Billy Creekmore) develops strong, distinct voices for each girl, but they are the flat characters of a parable. Ages 12-up. (June) (c) Copyright PWxyz, LLC. All rights reserved.
(c) Copyright PWxyz, LLC. All rights reserved
Book list After a kidnapping, brutal assault, and rape, 16-year-old Lark is left bound to a tree and dies of exposure in a snowstorm. Eve, once Lark's best friend, was the last person to see her alive and struggles to find the right way to react. Nyetta, a younger girl Lark once babysat, is visited by Lark's plaintive ghost. If Lark can't convince someone to look at her and bear witness to her wounds, she will be trapped in the tree, unable to move on into the afterlife. Nyetta is troubled by Lark's demands and forms an unlikely friendship with Eve and Eve's boyfriend, Ian, to find a way to help Lark go. In this sparse and poetic novel, Lark's ordeal is depicted briefly but with enough detail that it may be difficult for sensitive readers. Ultimately, though, this is a haunting addition to th. dead gir. genre that treats the survivors' emotions, guilt, and pain gently and with a great deal of understanding.--Booth, Heathe. Copyright 2010 Booklist
From Booklist, Copyright © American Library Association. Used with permission.
School Library Journal Gr 8 Up-Lark Austin is only 16 when she is kidnapped, raped, and murdered. Her former best friend, Eve; her former babysitting charge, Nyetta; and Lark herself take turns telling this poignant story. Lark gets trapped in limbo, becoming a part of the tree where, her arms tied behind her, she was left to die. She begins to communicate with Nyetta, begging for her help in order to be set free. Eve is still recovering from being molested by her swim coach, which has caused her to withdraw from everyone around her. Nyetta is homeschooled, living primarily with her unemotional mother, and has no one with whom to really connect. The girls are all looking for someone to hear them. Readers may initially be reminded of Alice Sebold's The Lovely Bones (Little, Brown, 2002), but the story takes its own path at once. The concise narrative holds deep and honest emotions as the characters go through the stages of dealing with Lark's untimely and gruesome death. An excellent addition to YA collections.-Emily Chornomaz, Camden County Library System, Camden, NJ (c) Copyright 2011. Library Journals LLC, a wholly owned subsidiary of Media Source, Inc. No redistribution permitted.
(c) Copyright 2010. Library Journals LLC, a wholly owned subsidiary of Media Source, Inc. No redistribution permitted.