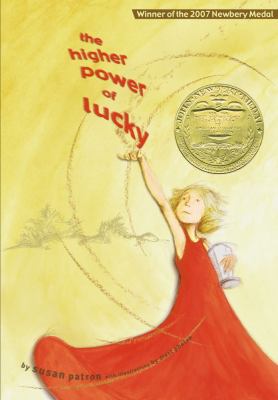 The Higher Power of Lucky
by Susan Patron


School Library Journal Gr 4-6-When Lucky's mother is electrocuted and dies after a storm, Lucky's absentee father calls his ex-wife, Brigitte, to fly over from France to take care of the child. Two years later, the 10-year-old worries that Brigitte is tired of being her guardian and of their life in Hard Pan (pop. 42) in the middle of the California desert. While Lucky's best friend ties intricate knots and the little boy down the road cries for attention, she tries to get some control over her life by restocking her survival kit backpack and searching for her "Higher Power." This character-driven novel has an unusually complicated backstory, and a fair amount of exposition. Yet, its quirky cast and local color help to balance this fact, and the desert setting is fascinating. Lucky's tendency to jump to conclusions is frustrating, but her struggle to come to terms with her mother's death and with her new life ring true. Phelan's cover and line drawings are simple and evocative, a perfect complement to the text. Fans of novels by Deborah Wiles and Katherine Hannigan will be happy to meet Lucky.-Adrienne Furness, Webster Public Library, NY Copyright 2006 Reed Business Information.
Copyright © Reed Business Information, a division of Reed Elsevier Inc. All rights reserved.
Book list Lucky, age 10, lives in tiny Hard Pan, California (population 43), with her dog and the young French woman who is her guardian. With a personality that may remind some readers of Ramona Quimby, Lucky, who is totally contemporary, teeters between bravado--gathering insect specimens, scaring away snakes from the laundry--and fear that her guardian will leave her to return to France. Looking for solace, Lucky eavesdrops on the various 12-step meetings held in Hard Pan (of which there are plenty), hoping to suss out a higher power that will see her through her difficulties. Her best friend, Lincoln, is a taciturn boy with a fixation for tying knots; another acquaintance, Miles, seems a tiresome pest until Lucky discovers a secret about his mother. Patron's plotting is as tight as her characters are endearing. Lucky is a true heroine, especially because she's not perfect: she does some cowardly things, but she takes pains to put them to rights. --Francisca Goldsmith Copyright 2006 Booklist
From Booklist, Copyright © American Library Association. Used with permission.