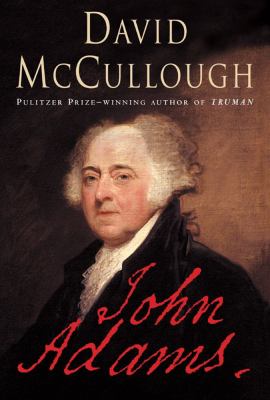 John Adams
by David McCullough


Book list John Adams and George H. W. Bush share a unique place in American history: both were presidents themselves, and both fathered presidents. McCullough's masterpiece of biography--his first book since the equally distinguished Truman (1992)--brings John Adams pere out from the shadow of his predecessor in the presidency, the Founding Father George Washington. Of hardy New England stock and blessed with a happy upbringing, Adams led an adult life that paralleled the American colonies' movement toward independence and the establishment of the American republic, a long but inspiring process in which Adams was heavily involved. Adams' historical reputation is that of a cold, cranky person who couldn't get along with other people; McCullough sees him as blunt and thin-skinned--and consequently not good at taking criticism--but also as a person of great intelligence, compassion, and even warmth. According to McCullough, Adams' drive to succeed influenced nearly every move he made. He was a lawyer by profession, but when rumblings of self-governance began to stir, Adams' inherent love of personal liberty inevitably drew him into an important role in what was to come. Interestingly, McCullough avers that Adams did not view his election to the presidency as the crowning achievement of his career, for he "was inclined to look back upon the long struggle for independence as the proud defining chapter." But Adams' greatest accomplishment as president, so he himself believed, was the peace his administration brought to the land. This is a wonderfully stirring biography; to read it is to feel as if you are witnessing the birth of a country firsthand. --Brad Hooper
From Booklist, Copyright © American Library Association. Used with permission.
Publishers Weekly Here a preeminent master of narrative history takes on the most fascinating of our founders to create a benchmark for all Adams biographers. With a keen eye for telling detail and a master storyteller's instinct for human interest, McCullough (Truman; Mornings on Horseback) resurrects the great Federalist (1735-1826), revealing in particular his restrained, sometimes off-putting disposition, as well as his political guile. The events McCullough recounts are well-known, but with his astute marshaling of facts, the author surpasses previous biographers in depicting Adams's years at Harvard, his early public life in Boston and his role in the first Continental Congress, where he helped shape the philosophical basis for the Revolution. McCullough also makes vivid Adams's actions in the second Congress, during which he was the first to propose George Washington to command the new Continental Army. Later on, we see Adams bickering with Tom Paine's plan for government as suggested in Common Sense, helping push through the draft for the Declaration of Independence penned by his longtime friend and frequent rival, Thomas Jefferson, and serving as commissioner to France and envoy to the Court of St. James's. The author is likewise brilliant in portraying Adams's complex relationship with Jefferson, who ousted him from the White House in 1800 and with whom he would share a remarkable death date 26 years later: July 4, 1826, 50 years to the day after the signing of the Declaration. (June) Forecast: Joseph Ellis has shown us the Founding Fathers can be bestsellers, and S&S knows it has a winner: first printing is 350,000 copies, and McCullough will go on a 15-city tour; both Book-of-the-Month Club and the History Book Club have taken this book as a selection. Copyright 2001 Cahners Business Information.
Copyright © Reed Business Information, a division of Reed Elsevier Inc. All rights reserved.
Library Journal This life of Adams is an extraordinary portrait of an extraordinary man who has not received his due in America's early political history but whose life work significantly affected his country's future. McCullough is here following his Pulitzer Prize-winning biography, Truman, and his subjects have much in common as leaders who struggled to establish their own presidential identities as they emerged from the shadows of their revered predecessors. The author paints a portrait of Adams, the patriot, in the fullest sense of the word. The reader is treated to engaging descriptions and accounts of Washington, Jefferson, and Franklin, among others, as well as the significant figures in the Adams family: Abigail, John's love and full partner, and son John Quincy. In tracing Adams's life from childhood through his many critical, heroic, and selfless acts during the Revolution, his vice presidency under Washington, and his own term as president, the full measure of Adams a man widely regarded in his time as the equal of Jefferson, Hamilton, and all of the other Founding Fathers is revealed. This excellent biography deserves a wide audience. Thomas J. Baldino, Wilkes Univ., Wilkes-Barre, PA Copyright 2001 Cahners Business Information.
Copyright © Reed Business Information, a division of Reed Elsevier Inc. All rights reserved.