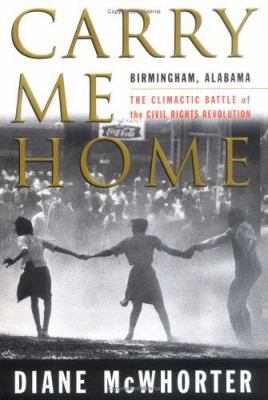 Carry Me Home
by Diane McWhorter


Book list In this groundbreaking book, McWhorter, a journalist and regular contributor to the New York Times and USA Today, tells the story of her hometown, Birmingham, Alabama, and the dramatic events that unfolded there during the civil rights struggle of the 1950s and 1960s. A daughter of Birmingham's privileged elite, McWhorter weaves a personal narrative through this startling account of the history, events, and major players on both sides of the civil rights battle in that city. In painstaking detail, she reveals the hardships and horrors (including police dogs, water cannons, and bombings) faced by the Black Freedom Fighters, but she also plainly shows the conspiracy between the town's establishment, the city's public officials, and the vicious Klansmen who did the "dirty" work, in their furious resistance to desegregation. Exhaustively researched yet still compellingly readable, McWhorter's book is an excellent choice for libraries. --Kathleen Hughes
From Booklist, Copyright © American Library Association. Used with permission.
Library Journal Journalist McWhorter (the New York Times) offers a three-part chronicle of Birmingham, AL, the crucial battleground of the Civil Rights movement of the 1950s and 1960s. A daughter of privilege, she puts her homefolk's resistance to black civil rights in a national context. But her signal contribution is her account of life inside Fortress Segregation. She reveals the intimate workings and absolutism of segregation, which she dubs "a civilization more peculiar than slavery." Her detailed portrait of white intransigence and retaliation climaxes in 1963 with Police Commissioner Eugene "Bull" Connor's dogs and the September 15 dynamiting that killed four black girls at the Sixteenth Street Baptist Church. McWhorter's literate, often barbed, well-referenced local history with a family twist is a feat of reporting that belongs alongside David Halberstam's The Children (LJ 2/15/98), Taylor Branch's Parting the Waters: America in the King Years, 1954-1963 (LJ 1/89. o.p.), and such works on Birmingham as John Walton Cotman's Birmingham, JFK, and the Civil Rights Act of 1963 (1989). Recommended for all collections on civil rights and U.S. or Southern history. [Previewed in Prepub Alert, LJ 11/15/00.] Thomas J. Davis, Arizona State Univ., Tempe Copyright 2001 Cahners Business Information.
(c) Copyright 2010. Library Journals LLC, a wholly owned subsidiary of Media Source, Inc. No redistribution permitted.
Publishers Weekly The story of civil rights in Birmingham, Ala., has been told before from the unspeakable violence to the simple, courageous decencies but fresh, sometimes startling details distinguish this doorstop page-turner told by a daughter of the city's white elite. McWhorter, a regular New York Times contributor, focuses on two shattering moments in Birmingham in 1963 that led to "the end of apartheid in America": when "Bull Connor's police dogs and fire hoses" attacked "school age witnesses for justice," and when the Ku Klux Klan bombed the 16th Street Church, killing four black girls. Yet she brings a gripping pace and an unusual, two-fold perspective to her account, incorporating her viewpoint as a child (she was largely ignorant of what was going on "downtown," even as her father took an increasingly active role in opposing the civil rights movement), as well as her adult viewpoint as an avid scholar and journalist. Surveying figures both major and minor civil rights leaders, politicians, clergy, political organizers of all stripes her panoramic study unmasks prominent members of Birmingham in collusion with the Klan, revealing behind-the-scenes machinations of "terrorists on the payroll at U.S. Steel" and men like Sid Smyer, McWhorter's distant cousin, who "bankrolled... one of the city's most rabid klansmen." McWhorter binds it all together with the strong thread of a family saga, fueled by a passion to understand the father about whom she had long harbored "vague but sinister visions" and other men of his class and clan. (Mar. 15) Forecast: McWhorter's prominence and her willingness to name names as well as her exhaustive research and skillful narrative virtually guarantee major review attention. Bolstered by an eight-city tour and a pre-pub excerpt in Talk in February, the 50,000-copy first printing should move fast. Copyright 2001 Cahners Business Information.
(c) Copyright PWxyz, LLC. All rights reserved
Choice Nineteen years ago journalist McWhorter (New York Times, USA Today) began research to understand Birmingham in 1963 and the part her family, especially her father, played in the events of that time. She skillfully tells the story of the city's Big Mules, who dominated the community socially, economically, and politically. They succeeded in protecting their profits and position through the use of class, race, religion, and communism to defeat labor unions, Reds, and blacks. This local power structure used lower-class thugs in the KKK and other organizations to divide Protestant and Catholic to prevent the rise of labor unions, and later used the Red Scare to battle the Civil Rights Movement. Local and state laws enforced by Bull Connor's police with the help of the KKK and racist judges kept a tight lid on dissent. Yet blacks successfully challenged the system through demonstrations that rallied the people, the nation, and the Kennedy administration to change fear to hope. Among blacks, the author praises primarily Fred Shuttlesworth, but no one escapes her criticisms. That includes her father who, according to him, did not kill anyone. McWhorter writes well, but the story is very involved. Good documentation. All collections. L. H. Grothaus emeritus, Concordia University
Copyright American Library Association, used with permission.
Library Journal McWhorter, who was born into Birmingham's white elite, examines the city's pivotal role in the battle for civil rights. Copyright 2000 Cahners Business Information.
(c) Copyright 2010. Library Journals LLC, a wholly owned subsidiary of Media Source, Inc. No redistribution permitted.