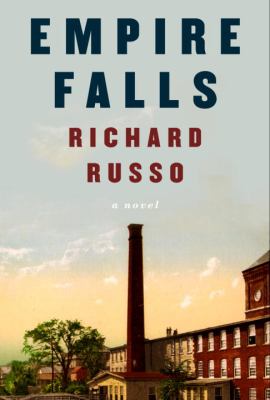 Empire Falls
by Richard Russo


Library Journal "Elijah Whiting...had not succeeded in killing his wife with a shovel, nor had he recovered from the disappointment." These lines from the prolog of Russo's (Straight Man) latest novel prove prototypical. A keen observer of human nature, Russo explores the tragicomic realities of life in a small mill town in central Maine whose best days are behind. Miles Roby is a basically decent guy who runs the Empire Grill for the widow of the last Whiting male (who shot himself when he, too, couldn't recover from his failure to dispatch his wife). Miles's own wife has left him for a sleazy gym owner, and his angst-ridden teenage daughter has befriended a sullen, ominously silent classmate shunned by the rest of his peers. Meanwhile, his ne'er-do-well father is in the process of trying to con a senile old priest into financing his annual jaunt to Key West. As the world careens around him and his fellow townfolk, Miles is trying desperately to figure out what went wrong and the answers, both complicated and simple, seem to lie mostly in the house across the river in which Mrs. Whiting resides. Russo has constructed a sensitive, endearingly oddball portrait of small-town life, a wonderful story that should appeal to a wide audience. Especially appropriate for public and larger academic libraries. [Previewed in Prepub Alert, LJ 1/01.] David W. Henderson, Eckerd Coll. Lib., St. Petersburg, FL Copyright 2001 Cahners Business Information.
Copyright © Reed Business Information, a division of Reed Elsevier Inc. All rights reserved.
Publishers Weekly In his biggest, boldest novel yet, the much-acclaimed author of Nobody's Fool and Straight Man subjects a full cross-section of a crumbling Maine mill town to piercing, compassionate scrutiny, capturing misfits, malefactors and misguided honest citizens alike in the steady beam of his prose. Wealthy, controlling matriarch Francine Whiting lives in an incongruous Spanish-style mansion across the river from smalltown Empire Falls, dominated by a long-vacant textile mill and shirt factory, once the center of her husband's family's thriving manufacturing dominion. In his early 40s, passive good guy Miles Roby, the son of Francine's husband's long-dead mistress, seems helpless to escape his virtual enslavement as longtime proprietor of the Whiting-owned Empire Grill, the town's most popular eatery, which Francine has promised to leave him when she dies. Miles's wife, Janine, is divorcing him and has taken up with an aging health club entrepreneur. In her senior year in high school, their creative but lonely daughter, Tick, is preoccupied by her parents' foibles and harassed by the bullying son of the town's sleazy cop who, like everyone else, is a puppet of the domineering Francine. Struggling to make some sense of her life, Tick tries to befriend a boy with a history of parental abuse. To further complicate things, Miles's brother, David, is suspected of dealing marijuana, and their rascally, alcoholic father is a constant annoyance. Miles and David's secret plan to open a competing restaurant runs afoul of Francine just as tragedy erupts at the high school. Even the minor members of Russo's large cast are fully fleshed, and forays into the past lend the narrative an extra depth and resonance. When it comes to evoking the cherished hopes and dreams of ordinary people, Russo is unsurpassed. (May) Forecast: A 100,000-copy first printing of this impressive effort would probably fly off shelves even without the support of a 16-city author tour, national advertising and promotion, national media appearances, bookmarks, posters and a reading group guide. Returning with a flourish to familiar smalltown territory after his foray into academia with Straight Man, Russo could make a splash on big-city bestseller lists. Copyright 2001 Cahners Business Information.
Copyright © Reed Business Information, a division of Reed Elsevier Inc. All rights reserved.
Book list In a warmhearted novel of sweeping scope, Russo animates the dead-end small town of Empire Falls, Maine, long abandoned by the logging and textile industries that provided its citizens with their livelihood. Miles Roby surveys his hometown with bemused regret from the Empire Grill, owned by a local magnate but run by him ever since he was called home from college to take care of his ailing mother. His daily parade of customers provides him with ample evidence of both the restrictions and forced intimacy of small-town life and has left him with a deep appreciation for irony: his ex-wife's new paramour, "the Silver Fox," has suddenly become a loyal customer and is constantly challenging him to an arm-wrestling contest; his father, always a day late and a dollar short, has talked a senile priest into running off to Key West for the winter (where they tie for first place in the local Hemingway look-alike contest); and the diner owner's daughter, apprised of Miles' impending divorce, is forever trying to engulf him in a teary embrace. Russo follows up his rollicking academic satire, Straight Man (1997), with a return to the blue-collar milieu featured in his first three novels and once again shows an unerring sense of the rhythms of small-town life, balancing his irreverent, mocking humor with unending empathy for his characters and their foibles. --Joanne WilkinsonAdult Books Young adult recommendations in this issue have been contributed by the Books for Youth editorial staff and by reviewers Nancy Bent, GraceAnne A. DeCandido, Elizabeth Drennan, Connie Fletcher, Sharon Greene, Leone McDermott, Karen Simonetti, Candace Smith, Daniel Winslow, and Linda Zeilstra. Titles recommended for teens are marked with the following symbols: YA, for books of general YA interest; YA/C, for books with particular curriculum value; YA/L, for books with a limited teenage audience; YA/M, for books best suited to mature teens.
From Booklist, Copyright © American Library Association. Used with permission.