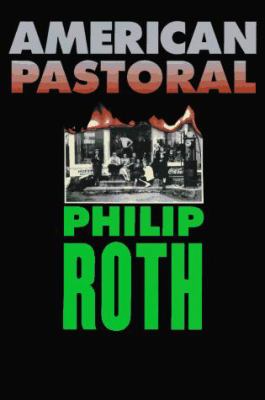 American Pastoral
by Philip Roth


Library Journal It's the Sixties, and hard-working, prosperous Seymour Levov has done everything right. So why has his daughter become a terrorist? A 100,000-copy first printing.
Copyright © Reed Business Information, a division of Reed Elsevier Inc. All rights reserved.
Library Journal In his latest novel, Roth shows his age. Not that his writing is any less vigorous and supple. But in this autumnal tome, he is definitely in a reflective mood, looking backward. As the book opens, Roth's alter ego, Nathan Zuckerman, recalls an innocent time when golden boy Seymour "the Swede" Levov was the pride of his Jewish neighborhood. Then, in precise, painful, perfectly rendered detail, he shows how the Swede's life did not turn out as gloriously as expected?how it was, in fact, devastated by a child's violent act. When Merry Levov blew up her quaint little town's post office to protest the Viet Nam war, she didn't just kill passing physician Fred Conlon, she shattered the ties that bound her to her worshipful father. Merry disappears, then eventually reappears as a stick-thin Jain living in sacred povery in Newark, having killed three more people for the cause. Roth doesn't tell the whole story blow by blow but gives us the essentials in luminous, overlapping bits. In the end, the book positively resonates with the anguish of a father who has utterly lost his daughter. Highly recommended. [Previewed in Prepub Alert, LJ 12/96.]?Barbara Hoffert, "Library Journal"
Copyright © Reed Business Information, a division of Reed Elsevier Inc. All rights reserved.
Book list There is no sex in the new Philip Roth novel, but that is only one shortcoming. Pastoral, like Roth's 21 previous works, is well crafted with vivid, crisp prose, but unlike the others, it's empty. There's no there there. Roth resurrects alter ego Nathan Zuckerman to introduce Seymour "Swede" Levov, a Phineas-like character from Roth's childhood at Newark's Wequahic High School. Swede and Nathan meet by chance at a Mets' game years later. Swede, a towheaded, square-jawed, six-foot superathlete, had a knack for transcending the turbulence of wartime America. A marine at the end of World War II, he is spared the South Pacific slaughterhouse and is kept stateside to play baseball for the Parris Island squad. After the war, he marries Dawn, the blond Miss New Jersey, buys a house in the country, and takes over his father's multimillion-dollar glove factory in Newark. And after that, Roth delights in the destruction of his all-American hero, filling page after page with frustration, humiliation, and anxiety: Vietnam radicalizes Swede's daughter, Merry, destroying the family; Dawn's depression and infidelity ruin their marriage; and a jealous, vindictive brother and controlling father each take a toll. Pastoral is both sentimental and savage. Roth vents his bitterness with America and himself. Once again, no one escapes the misery that personifies modern America. Ted Leventhal
From Booklist, Copyright © American Library Association. Used with permission.
Publishers Weekly The protagonist of Roth's new novel, a magnificent meditation on a pivotal decade in our nation's history, is in every way different from the profane and sclerotic antihero of Sabbath's Theater (for which Roth won the National Book Award in 1995). It's as though, having vented his spleen and his libido in Mickey Sabbath, Roth was then free to contemplate the life of a man who is Sabbath's complete opposite. He relates the story of Seymour "Swede" Levov with few sex scenes and no scatological sideshows; the deviant behavior demonstrated here was common to a generation, and the shocks Roth delivers are part of our national trauma. This is Roth's most mature novel, powerful and universally resonant. Swede Levov's life has been charmed from the time he was an all-star athlete at Newark's Weequahic high school. As handsome, modest, generous and kind as he is gifted, Swede takes pains to acknowledge the blessings for which he is perceived as the most fortunate of men. He is patriotic and civically responsible, maritally faithful, morally upstanding, a mensch. He successfully runs his father's glove factory, refusing to be cowed by the race riots that rock Newark, marries a shiksa beauty-pageant queen, who is smart and ambitious, buys a 100-acre farm in a classy suburb?the epitome of serene, innocent, pastoral existence?and dotes on his daughter, Merry. But when Merry becomes radicalized during the Vietnam War, plants a bomb that kills an innocent man and goes underground for five years, Swede endures a torment that becomes increasingly unbearable as he learns more about Merry's monstrous life. In depicting Merry, Roth expresses palpable fury at the privileged, well-educated, self-centered children of the 1960s, who in their militant idealism demonstrated ferocious hatred for a country that had offered their families opportunity and freedom. After three generations of upward striving and success, Swede and his family are flung "out of the longed-for American pastoral and into everything that is its antithesis and its enemy?into the fury, the violence and the desperation of the counterpastoral?into the American berserk." Roth's pace is measured. The first two sections of the book are richly textured with background detail. The last third, however, is full of shocking surprises and a message of existential chaos. "The Swede found out that we are all in the power of something demented,'' Roth writes. And again: "He had learned the worst lesson that life could teach?that it makes no sense." In the end, his dream and his life destroyed by his daughter and the decade, Swede finally understands that he is living through the moral breakdown of American society. The picture is chilling. 100,000 first printing; BOMC selection. (May)
Copyright © Reed Business Information, a division of Reed Elsevier Inc. All rights reserved.