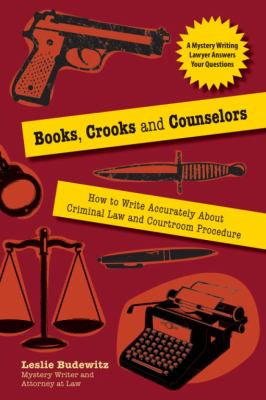 Books, Crooks and Counselors: How to Write Accurately About Criminal Law and Courtroom Procedure
by Leslie Budewitz


Library Journal Budewitz, an attorney-at-law who has been published in mystery magazines, wrote this book to help crime writers wade through the time-consuming and often confusing process of legal research. She provides an insider's perspective on often overlooked legal concepts and pinpoints common errors writers make when incorporating criminal and civil law into their fiction. The book covers 160 topics, including proper legal terminology, realistic courtroom behavior and dialog, proper procedure (both at the state and at the federal level), and the legal system as a whole. The frequently asked questions featured in each chapter are also arranged by topic within the table of contents, enabling readers to pick and choose the legal aspects most relevant to their writing. The final chapter offers guidance on conducting legal research, and the "Book Links" section references useful URLs listed throughout. VERDICT Budewitz's material is straightforward and user-friendly. Her content will help shave off hours of research time and enable writers to focus more energy on craft, plot, and character development. Highly recommended for aspiring writers of crime fiction. [Quill Driver also published Carolyn Kaufman's The Writer's Guide to Psychology.-Ed.]-Karen McCoy, Northern Arizona Univ. Lib., Flagstaff (c) Copyright 2011. Library Journals LLC, a wholly owned subsidiary of Media Source, Inc. No redistribution permitted.
(c) Copyright 2010. Library Journals LLC, a wholly owned subsidiary of Media Source, Inc. No redistribution permitted.
Book list Lawyer and crime-fiction writer Budewitz has put together an essential guide to getting it right when writing about the law. Starting with the basics (the difference between criminal and civil action; the difference between a judge and a justice) and proceeding in a logical fashion to more complicated stuff (how prosecutors decide whether to proceed with a case; the difference between direct and circumstantial evidence; the facts about diplomatic immunity), the author explains how crime writers can make sure to use the correct terminology and proper procedures, thus ensuring that they will not, well, embarrass themselves. Budewitz also makes intelligible to the layperson some of those baffling legal terms Res ipsa loquitor, that sort of thing and she dips into such potentially murky waters as legal ethics and the death penalty (from a writerly standpoint rather than a philosophical one). Written in clear, simple prose and drawing on examples from crime fiction and the author's own career as a lawyer, this book belongs on the shelf of every crime writer.--Pitt, David Copyright 2010 Booklist
From Booklist, Copyright © American Library Association. Used with permission.