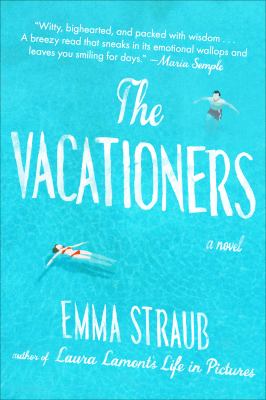 The Vacationers
by Emma Straub


Book list *Starred Review* Straub's second novel (Laura Lamont's Life in Pictures, 2012) is contained in the two-week vacation of the extended Post family: Franny and Jim, married over 30 years; their teen daughter, Sylvia; twentysomething son Bobby, his girlfriend, Carmen, in tow; and Franny's best friend, Charles, and his husband, Lawrence. Trading one grand island for another, the mainly Manhattanites arrive in Mallorca with, of course, a few secrets tucked in their literal baggage and so begin the games that occur above the plane of the Scrabble board. Jim has suddenly left his beloved magazine job, and not everyone knows the circumstances; Sylvia's excitement to get to Brown might have more to do with leaving home; Carmen wishes Bobby would ask his parents for that favor already; and it's more than work e-mails keeping Lawrence searching for a Wi-Fi signal. Straub masters a constantly changing flow of perspectives as readers wonder who will forgive and be forgiven in this sun-soaked, remote paradise. Spongy and dear, sharply observed and funny, Straub's domestic-drama-goes-abroad is a delightful study of the complexities of family and love, and the many distractions from both.--Bostrom, Annie Copyright 2010 Booklist
From Booklist, Copyright © American Library Association. Used with permission.
Publishers Weekly The Post family is going to Mallorca for two weeks of vacation, but for them clouds are forming over the sunlit destination: the tickets were already booked when it came to light that Jim, Post pere, has recently committed transgressions grave enough to get him fired and infuriate Franny, his wife of 35 years. The couple's youngest daughter, Sylvia, has just graduated from high school and her parents are anxious to have one last family holiday before she becomes an adult. Joining them are Sylvia's older brother and his girlfriend, as well as Franny's best friend Charles and his husband. Every couple, and indeed every individual, arrives with a mix of optimism and trepidation, along with a host of uncertainties that, by book's end, are satisfyingly resolved. Straub (Laura Lamont's Life in Pictures) seems to have found her stride. The pacing is quick but satisfying and the characters themselves feel genuinely complex, interesting, and knowable. While the structure of the novel does feel somewhat unoriginal-it begins with the airport, ends with the plane home, and the chapters in between are days of the trip-Straub uses the simplicity of the organization to her advantage. A pleasant, readable journey. (May) (c) Copyright PWxyz, LLC. All rights reserved.
(c) Copyright PWxyz, LLC. All rights reserved
Library Journal Straub's second novel (after Laura Lamont's Life in Pictures) is perfect vacation reading, combining a warm-weather locale with complicated family drama. The Post family is leaving Manhattan for their long-planned trip to Mallorca, an intended celebration of both Franny and Jim's 35th wedding anniversary and daughter Sylvia's high school graduation. They've rented a house where they will be joined by family and friends: their son, Bobby; his girlfriend, Carmen; and Franny's best friend, Charles, and his husband, Lawrence. If their plans didn't involve other people, Franny and Jim might have called this vacation off, as family tensions have been growing over the hushed-up reason for Jim's recent forced retirement. As it is, corralling all these people into one house for a two-week stretch unleashes more emotional upheaval than could have been predicted. The arrival of a handsome local who is supposed to be tutoring -Sylvia in Spanish only fuels the fire. Secrets and longings are revealed, and relationships shift into new configurations-with unexpected hopefulness in the story's conclusion. -VERDICT An examination of fidelity, passion, and the vagaries of relationships, this is summer reading with some sizzle and seriousness. [See Prepub Alert, 1/19/14.]-Melanie Kindrachuk, Stratford P.L., Ont. (c) Copyright 2014. Library Journals LLC, a wholly owned subsidiary of Media Source, Inc. No redistribution permitted.
(c) Copyright 2010. Library Journals LLC, a wholly owned subsidiary of Media Source, Inc. No redistribution permitted.