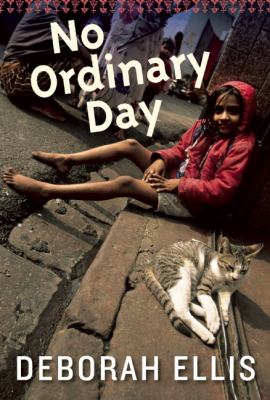 No Ordinary Day
by Deborah Ellis


Publishers Weekly Ellis (the Breadwinner trilogy) again brings an individual humanity to newspaper headlines. Giving voice to an orphan girl living on the streets of Calcutta unaware of her leprosy, Ellis turns a potentially unpalatable subject into a fresh and compelling story that focuses on Valli's spirited personality and sly cleverness. Valli runs away from her poverty-stricken home in the coal town of Jharia, India, when she learns that she is not a true member of the family she lives with. In Calcutta, she learns to survive by "borrowing" what she needs, be it blankets, money, or food. Quick, intelligent, and fearless, Valli is content living day to day until she meets a doctor who takes her for treatment to the hospital, where she finds herself among the "monsters" she feared most in Jharia-leprosy-stricken, disfigured people. Refusing to acknowledge she is one of them, she escapes back to the streets, until she finally understands she has the potential to lead a better life. Ellis's straightforward language and uncompromising depictions of Valli's unimaginably harsh and gritty world combine with believable character development to create a strong and accessible novel. Ages 9-12. (Sept.) (c) Copyright PWxyz, LLC. All rights reserved.
(c) Copyright PWxyz, LLC. All rights reserved
Book list *Starred Review* Valli, an orphan living in Jharia, India, spends her days picking up coal, fighting with cousins, and avoiding the monsters (lepers, actually) who live on the other side of the tracks. When she learns her family are not true blood relatives, she runs away to Kolkata, where she survives by borrowing what she needs, using it for a while, and then passing it on to someone else. Finally, she meets Dr. Indra, who recognizes that Valli, too, suffers from leprosy and helps the child to secure treatment and hope for a better future. What keeps this story from becoming maudlin is Valli's positive outlook. Quick, intelligent, and fearless, she isn't above begging to ensure her survival, but rarely does she play the victim card. Details about leprosy (causes, symptoms, treatment, prognosis) are carefully woven into the story and never feel forced or didactic. While Valli's situation will seem alien to most young North Americans, this compelling and accessible novel will enlighten, spark discussion, and prompt readers to try other Ellis titles, in particular, the Breadwinner trilogy.--Weisman, Kay Copyright 2010 Booklist
From Booklist, Copyright © American Library Association. Used with permission.
School Library Journal Gr 3-6-Valli, about 10, lives in the poverty-stricken town of Jharia, India, where she is a coal picker. When she makes a shocking discovery about her family, she runs away and, after a series of harrowing events, reaches the bustling city of Kolkata. Valli survives on the street by stealing and begging. With no plan, no support system, and failing health, she begins to lose hope. While begging for change one day, she is befriended by a kind doctor who recognizes Valli's symptoms of leprosy. The child is terrified with this diagnosis as back home the village children had thrown stones at people with this disease, calling them "monsters." With the help of the doctor and other leprosy patients, Valli gets treatment and education, learns tolerance for people different from herself, and simultaneously realizes her own self-worth. Although many important lessons are presented in this even-paced, clearly written story, it is never heavy-handed or didactic. Valli is a well-developed, realistic, and engaging narrator. While American readers may not all relate to her ordeals, they will recognize common emotions for people their age. The story highlights not only the overcoming of adversity, but also the importance of education and literacy. It also brings to light the issue of leprosy, which is misunderstood. An important, inspiring tale.-Rita Meade, Brooklyn Public Library, NY (c) Copyright 2011. Library Journals LLC, a wholly owned subsidiary of Media Source, Inc. No redistribution permitted.
(c) Copyright 2010. Library Journals LLC, a wholly owned subsidiary of Media Source, Inc. No redistribution permitted.