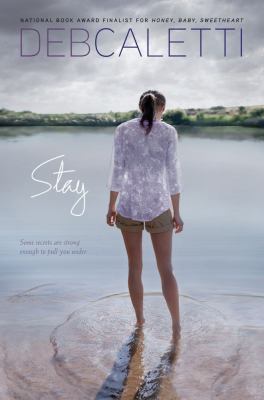 Stay
by Caletti, Deb


School Library Journal Gr 9 Up-Interweaving a young woman's past and present experiences in alternating chapters, this novel reveals how Clara's romance with Christian tips slowly but inexorably toward obsession during her junior and senior years of high school. After graduation, Clara and her father slip off to a Washington beach town in secret to escape her now ex-boyfriend's frightening and unpredictable reach into her current life. In this cunningly crafted narrative, readers will slowly come to understand the danger posed by the cute Scandinavian boy who swept Clara off her feet and how what feels like love can crack and crumble when an insecure and possessive guy won't accept their breakup. Her summer job at a lighthouse and the friends she and her father meet, especially Finn, who sails his family's tourist boat with his brother, make Clara hopeful about the future. The suspense rises like the tide while readers applaud the teen's healthy new life and relationships but fear that she hasn't seen the last of the unstable and unpredictable Christian. Characters and new love ring true and would make this fine chick lit in and of itself, but the looming specter of the ex-boyfriend finding Clara makes it a novel with an appealing edge. Fear tinges this summer romance and underscores the issue of abusive and claustrophobic relationships among teens.-Suzanne Gordon, Lanier High School, Sugar Hill, GA (c) Copyright 2011. Library Journals LLC, a wholly owned subsidiary of Media Source, Inc. No redistribution permitted.
(c) Copyright 2010. Library Journals LLC, a wholly owned subsidiary of Media Source, Inc. No redistribution permitted.
Book list Clara has just graduated from high school, and her intense relationship with Christian is over, but he cannot accept that reality. The more he pushes and pleads, the more she pulls away. When Clara and her writer-father go to the coast for the summer without telling anyone, she begins to come to grips with Christian's obsession. Making friends with local sailor Finn Bishop helps Clara see herself more clearly and confront the damage of the relationship. Told in Clara's clear, poignant voice, with occasional revealing footnotes from the narrator, Caletti's prose is at its best. The real Washington State locales of Deception Pass and Possession Point seem to be used deliberately, but readers won't mind the coincidence. Finn serves as a lovely foil to Christian, and a subplot involving Clara's father and dead mother adds depth. Perfect for fans of Sarah Dessen's books, especially Dreamland (2000), this is a moving tale of a young woman learning how to love, to live, and to forgive.--Moore, Melissa Copyright 2010 Booklist
From Booklist, Copyright © American Library Association. Used with permission.