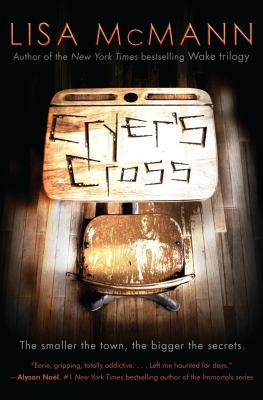 Cryer's Cross
by McMann, Lisa


Book list Kendall is a senior in a one-room high school where last spring Tiffany, a freshman, disappeared. Now it is the start of a new year, and Kendall's boyfriend, Nico the only one who truly understood Kendall's OCD has gone missing, too. While compelled to straighten the desks before class one morning, Kendall discovers that Nico's desk was also Tiffany's desk. This seems like more than a coincidence, but Kendall is afraid that people will think she is crazy. The town's dark past is a well-kept secret, and though she doesn't want to admit it, Kendall will need the help of brooding newcomer Jacian if she is going to find Nico. Kendall is a unique character, and the details of her OCD compulsions are well drawn. Haunting passages from another world, which provide just enough detail to intrigue and disturb readers, are intertwined with Kendall's story. Part mystery, part ghost story, and part romance, this book has enough to satisfy a variety of readers and will find popularity with McMann's established fan base and new readers alike.--Yusko, Shauna Copyright 2010 Booklist
From Booklist, Copyright © American Library Association. Used with permission.
Publishers Weekly In this ghost story, McCann (the Wake trilogy) delivers an atmospheric but unsatisfying tale of smalltown horror. Kendall Fletcher, a soccer player with obsessive-compulsive disorder who dreams of performing on Broadway, is determined to escape her tiny hometown of Cryer's Cross, Mont., by getting into Juilliard. When her best friend, Nico, is the second student to vanish mysteriously in recent months, it throws Kendall's ordered life into disarray. Soon, enigmatic daydreams and clues lead her to believe that Nico is the latest victim of a supernatural mystery, and she may be the next target. A handsome but surly newcomer, Jacian, may be the key to surviving whatever is preying on the teens of Cryer's Cross. While the remote, rural setting is laden with potential (the one-room high school has only 24 students) and the constant whirring of Kendall's OCD-afflicted mind adds an interesting dimension, the elements never completely gel. McMann handles the buildup of the story's tension well, but her resolution feels quick and easy, and even bloody final revelations can't mitigate a premise that's far more silly than spooky. Ages 14-up. (Feb.) (c) Copyright PWxyz, LLC. All rights reserved.
(c) Copyright PWxyz, LLC. All rights reserved
School Library Journal Gr 7-10-This horror/suspense offering never really gets a full shiver going, even though McMann infuses her story with a 50-year-old wooden school desk and a menacing collective of tortured souls possessing it. Even when the desk-spirits seem to explain the bizarre disappearances of two of several high school students in the tiny Montana town of Cryer's Cross, the intended creep factor intended falls short. What doesn't fall short is the solid characterization of Kendall, a senior who tries to keep control of her OCD even after Nico, her best boy-friend since infancy, goes missing. Weird carved messages show up on the desk he was using before his disappearance, and Kendall thinks she hears his voice when she sits at it. Luckily, she has the distractions of soccer, a new boy from Arizona who slowly warms up to her, and her family's potato harvest to keep her from obsessing about Nico's loss and the eerie desk-until they just become too compelling. Then she, too, faces danger from the trapped entities that inhabit the desk. The mystery of why and how the desk is possessed and urging teenagers to harm themselves is given a quick and illogical gloss over when explained. Discerning readers are unlikely to suspend disbelief, but they may find character and setting help redeem the book.-Suzanne Gordon, Lanier High School, Sugar Hill, GA (c) Copyright 2011. Library Journals LLC, a wholly owned subsidiary of Media Source, Inc. No redistribution permitted.
(c) Copyright 2010. Library Journals LLC, a wholly owned subsidiary of Media Source, Inc. No redistribution permitted.