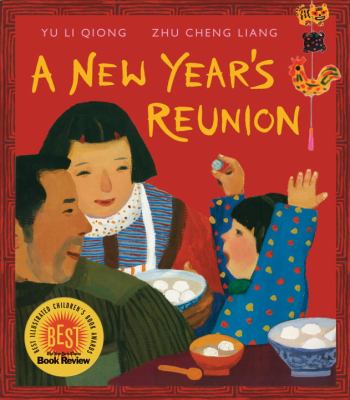 A New Year's Reunion: A Chinese Story
by Yu Li-Qiong


School Library Journal PreS-Gr 1-Written and illustrated in mainland China and originally published in Taiwan, this book tells a story familiar to many rural Chinese children. Maomao's father "builds big houses in faraway places" and can only come home for Chinese New Year. On this occasion, Maomao takes a while to warm up to him. When she does, they make sticky rice balls, enjoy fresh snow, and watch the dragon dance. She finds a treasure, loses it, and then finds it again. When the holiday is over, she watches Mama pack Papa's bags and he leaves again. This bittersweet and poignant story not only tells of a family celebrating a holiday, but also explores the trepidation and joy of a reunion. Lively gouache illustrations show the New Year's celebrations as well as Maomao's initial shyness around her father and her sorrow at losing her treasure. The story of an absent parent returning only during special occasions is one that speaks to more and more American children. The celebrations and traditions might differ, but the story of missing distant family is universal.-Jennifer Rothschild, Prince George's County Memorial Library System, Oxon Hill, MD (c) Copyright 2012. Library Journals LLC, a wholly owned subsidiary of Media Source, Inc. No redistribution permitted.
(c) Copyright 2010. Library Journals LLC, a wholly owned subsidiary of Media Source, Inc. No redistribution permitted.
Book list Maomao's father is a Chinese construction worker in faraway places who comes home once a year at Chinese New Year. She describes what happens during his brief stay, from gifts and a fresh haircut to home repairs and preparation of sticky rice balls. When she loses her lucky coin, the inconsolable Maomao can think of nothing else until it reappears just before her father's departure. Despite the winter setting, the bright gouache illustrations radiate warmth, showing Maomao snuggled between her parents in bed and high on her father's shoulders watching the dragon dancers. Brilliant, saturated colors with prominent cardinal reds contrast with her father's dark, neutral-hued clothing. Maomao's narrative is restrained, but the affecting portraits at her father's departure speak volumes. Appropriate for Chinese New Year, this exceptional family story will move readers at any time of the year and will resonate especially with children whose parents must leave their families for long periods of time.--Perkins, Linda Copyright 2010 Booklist
From Booklist, Copyright © American Library Association. Used with permission.
Publishers Weekly Two things make this Chinese New Year story remarkable-Zhu's meticulously observed gouaches and the family's poignant backstory. On the cover, a small girl with black hair shows her parents a coin. But Maomao's father, who beams back at her, works far away, and the New Year holiday is the only time all year he gets to see her. They share simple holiday pleasures-Papa hides the lucky coin in a sticky rice ball, and Maomao finds it-but on the day Papa packs to go, a single gesture from Mama, captured with a cinematic eye by Zhu, shows the strain the family is under: she holds her hand up to her face and looks away. Maomao, meanwhile, displays both resilience and generosity: "Here, take this," she says, pressing her treasured lucky coin into Papa's hand as he leaves. "Next time you're back, we can bury it in the sticky rice ball again!" Yu and Zhu create a memorable portrait of China's most joyous holiday and a testimony to the love that holds Maomao's family together. Ages 3-5. (Dec.) (c) Copyright PWxyz, LLC. All rights reserved.
(c) Copyright PWxyz, LLC. All rights reserved