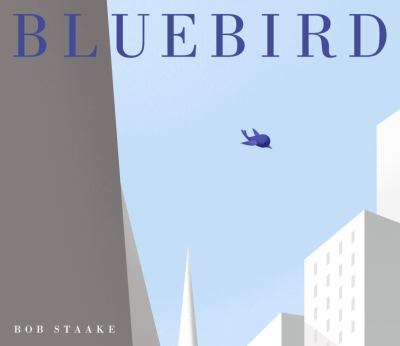 Bluebird
by Bob Staake.


Book list *Starred Review* With only a few hues of blue, a rainbow of steely grays, and a set of geometric shapes, Staake's wordless picture book explores friendship, wildlife, sacrifice, death, and hope. A young boy's drab world of loneliness gets a splash of color when he meets a perky bluebird. They share a cookie, get ignored by a pickup soccer game, and play in a pond before wandering into an ominous woods. There a squad of bullies turns the day into a tragedy, with the bird lying lifeless on the ground. An uplifting bit of magic closes the story, and the boy is comforted as the bird is reunited with the clouds and sky. In a mix of full-page artwork and small scenes arranged in sequential panels, Staake works out an impressive range of emotion, from the serene whimsy of cloud gazing to the cruel pointlessness of death, in his distinctive circle-and-square-based artwork. Without use of a single word (outside of a few pieces of signage to place the story in a New York-style city), this book raises all kinds of simple profundities for kids to question, ponder, imagine, and discuss.--Chipman, Ian Copyright 2010 Booklist
From Booklist, Copyright © American Library Association. Used with permission.
Publishers Weekly In this wordless story, a shy boy finds a winged mentor in a cheery bluebird. The bird helps the boy perk up after a rough day at school and then connects him to some friendly children at a sailboat pond. But when bullies kill the bird-a truly shocking moment-the story sheds its simple yearning and wishfulness (with the bird as a kind of feathered fairy godmother) and deepens into an eloquent affirmation of love, faith, and the persistence of goodness. Staake (Bugs Galore!) propels his story forward with steady assurance, using a largely gray palette, geometric shapes, and comics-style framing. He vividly evokes a Manhattanlike landscape that's overwhelming, yet full of potential, and he gives full visual voice to the boy's emotions; there are several moments when Staake stops the action and lets his audience savor how the bird has transformed the boy. It's possible (though not necessary) to attach the suggestion of an afterlife to the final pages, but believers and skeptics alike will find something deeply impressive and moving in this work of a singular, fully committed talent. Ages 4-8. Agent: Gilliam Mackenzie, Gillian Mackenzie Agency. (Apr.) (c) Copyright PWxyz, LLC. All rights reserved.
(c) Copyright PWxyz, LLC. All rights reserved
School Library Journal Gr 2-5-Staake's ability to digitally compose and contrast shapes for a pleasing geometric balance, aesthetic effect, and narrative purpose has never been stronger than in this wordless title about a heroic bird. Readers follow its flight past a New York City skyline filled with cones, pyramids, and rectangular prisms. Vertical lines are punctuated with stylized circular trees, heads, iris shots, clocks, etc. The sky and bird are indeed blue, but the lonely boy with the large, round head is dark gray; shades of gray comprise much of his world. White and black, used symbolically, complete the palette. The warbler notices the boy with the downcast eyes being mocked as he enters school. Afterward, the two play hide-and-seek, share a cookie, sail a toy boat together-in short, they become friends. Tuned-in readers will note the dedication to Audubon, examples of his art, the clock brand "Icarus," and other subtle thematic supports. Conflict arises when they enter Central Park, which is ominously dark, and bullies attempt to steal the boat. When one of them hurls a stick, the bird blocks it and falls, lifeless. As the child cradles his friend, the background brightens and a brilliantly colored flock lifts the pair into the clouds, where the creature fades from view as the boy waves good-bye. With echoes of Disney-Pixar's Up and William Joyce's The Fantastic Flying Books of Mr. Morris Lessmore (S & S, 2012), this is an apt fable for our time as we seek to help children develop empathy, curb aggression, and sense hope.-Wendy Lukehart, Washington DC Public Library (c) Copyright 2013. Library Journals LLC, a wholly owned subsidiary of Media Source, Inc. No redistribution permitted.
(c) Copyright 2010. Library Journals LLC, a wholly owned subsidiary of Media Source, Inc. No redistribution permitted.