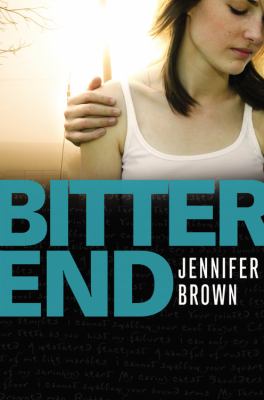 Bitter End
by Brown, Jennifer


School Library Journal Gr 9 Up-Alex is looking for something real-more real than her distant father, who never speaks in complete sentences, more real than the faded memories of her mother, who died on the night she was leaving her family, even more real than her two best friends and their plan for a graduation trip to Colorado. She thinks she has found what she has been looking for in Cole, the new boy at school whom she has been assigned to tutor. Alex is flattered when he shows interest in her, and he rapidly becomes her entire world. As she tries to balance her friends and Cole, her life begins to unravel. Bethany and Zack do not like Cole, and he does not want to share her. His increasing jealousy leads to escalating abuse, both physical and verbal. Her friends and coworkers know something is wrong, but Alex covers for him because she loves him and believes him when he says that he is going to change. When a former girlfriend comes to talk to her about Cole's abuse of her and others, and tells her that he and his family moved because of her lawsuit against him, Alex finally admits that her boyfriend is an abuser. That night he is waiting at her car after work and beats her until she is certain she is going to die. Thanks to the intervention of her boss she survives and begins the long road to recovery. Gritty and disturbing, this novel should be in all collections serving teens. It could be used in programs about abuse, as well as in psychology or sociology classes.-Suanne Roush, Osceola High School, Seminole, FL (c) Copyright 2011. Library Journals LLC, a wholly owned subsidiary of Media Source, Inc. No redistribution permitted.
(c) Copyright 2010. Library Journals LLC, a wholly owned subsidiary of Media Source, Inc. No redistribution permitted.
Book list When Alex and new-guy Cole hit it off during their tutoring sessions, Alex can't believe her good fortune. Not only is Cole sweet, gorgeous, and fun but he knows exactly how to make her feel special. He wants to be where she is, even watching her while she works at the Bread Bowl. He cares enough to be jealous of her best friends, Zack and Bethany, especially Zack. He is certainly different from her still grieving, emotionless father! Many readers will spot Cole's ultimately abusive tendencies early on, but Bitter End is rarely didactic, and Brown draws on her professional psychology background to create a nuanced novel that will help young readers explore not only why women allow themselves to be abused but how love factors into their inertia in seeking help. Brown creates multifaceted characters as well as realistic, insightful descriptions of Alex's emotions, and readers will empathize with Alex's terrifying decision to cut all ties before Cole harms her further. A tough but important addition to the YA romance shelves.--Bradburn, France. Copyright 2010 Booklist
From Booklist, Copyright © American Library Association. Used with permission.
Publishers Weekly Haunted by the death of her mother many years earlier in a car accident, Alex has long dreamed of visiting the Colorado mountains that were her mother's destination. Alex and BFFs Bethany and Zack are gearing up for a cross-country road trip to Colorado as a graduation present when Alex falls for Cole, a new senior who seems to understand her in ways no one has before-and who is prone to violent rages. As in The Hate List, Brown demonstrates an expert ability to handle difficult subject matter. Cole's brutal abuse and manipulations, Alex's inability to disclose her battering (and her willingness to make excuses for Cole), and Bethany and Zack's frustration and fear all feel entirely authentic. The book's power-and its value-comes from the honest portrayal of characters who simply can't figure out how to bring an ugly, evident truth to light. Brown's deliberate pacing and the gradual unveiling of Cole's nature make the story, and Cole and Alex's relationship, feel akin to a train gathering momentum, one whose destruction is as assured as it is tragic. Ages 15-up. (May) (c) Copyright PWxyz, LLC. All rights reserved.
(c) Copyright PWxyz, LLC. All rights reserved