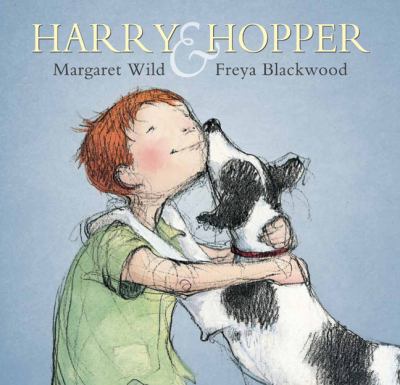 Harry and Hopper
by Margaret Wild


Publishers Weekly Redheaded Harry and his spotted dog, Hopper, are constant companions, accomplices ("As Hopper grew older... Harry helped him run away from his weekly bath"), and bedmates. The dog's sudden death (an accident that happens while Harry is at school), leaves the boy devastated; refusing to join his father at Hopper's backyard funeral, Harry "stared at the [TV] screen but the words and pictures didn't make sense, and he couldn't follow what was going on." But gradually, Harry finds that Hopper lives on his heart, and in the final, wordless scene, rendered from a vantage point far above the backyard, readers see Harry visiting his beloved pet's grave. Wild's (Puffling) understated, empathic prose offers both a voice for a child unable to articulate his grief and the reassurance that those we love never really disappear. Blackwood's (Ivy Loves to Give) predominantly charcoal drawings are equally eloquent, particularly in her use of texture to capture the emotional essence of good and sad times. These days, her gift for portraying children navigating the turbulence of life feels especially necessary. Up to age 5. (Jan.) (c) Copyright PWxyz, LLC. All rights reserved.
(c) Copyright PWxyz, LLC. All rights reserved
Book list *Starred Review* Winner of the Kate Greenaway Medal for illustration in 2010, this bittersweet Australian import about a boy and his dog brings diffuse tenderness and a touch of magic realism to a tale of love and loss. Harry meets Hopper the hound on the title page, and for a few spreads, the two are inseparable. Then Hopper is killed in an accident, and Harry is devastated. That night, Hopper appears at the window, solid and warm, and the two relive their time together, playing, wrestling, and cuddling. Hopper returns, night after night, ever fading in substance, until Harry is ready to say good-bye. Wild's unflinching narrative sensitive and straightforward and spare evokes the quiet, ceaseless throb of absence. Blackwood's sketchy paintings, though muted in tone and somber in substance, wriggle with life, even when that life is only a dream. With careful use of composition and perspective, Blackwood often places the protagonists on the outskirts of the page, positions that echo the story's themes of loneliness and connection. When so many picture books about grief aim squarely at bibliotherapy, Harry & Hopper reaches past the platitudes, sharing something essential about sadness and healing.--Barthelmess, Thom Copyright 2010 Booklist
From Booklist, Copyright © American Library Association. Used with permission.
School Library Journal PreS-Gr 2-A poignant depiction of grief at the loss of a beloved pet is relayed in this quietly moving story. Young Harry and his father adopt an energetic, bouncy black-and-white puppy that Harry appropriately names Hopper. The two develop a strong relationship, helping each other out and even sharing Harry's bed. One day, the boy's father breaks the news to Harry that his dog has been killed in an accident, but the child can't accept that reality. He also can't say good-bye to Hopper before he's buried in the yard and he can't stay in his lonely bed, choosing instead to sleep on the living-room couch. At school, Harry keeps to himself and doesn't tell anyone about what happened. How he comes to terms with his grief is touching and will resonate with children as well as adults who have experienced such a loss. Blackwood's laser print with watercolor, gouache, and charcoal illustrations adeptly show the exuberance of the close friendship and the sadness when it ends. A range of perspectives, varying sizes of pictures, and the change in color palette, from bright to muted back to bright, communicate the story visually, and the understated text conveys the emotions realistically. An affecting combination of pictures and words.-Maryann H. Owen, Racine Public Library, WI (c) Copyright 2011. Library Journals LLC, a wholly owned subsidiary of Media Source, Inc. No redistribution permitted.
(c) Copyright 2010. Library Journals LLC, a wholly owned subsidiary of Media Source, Inc. No redistribution permitted.