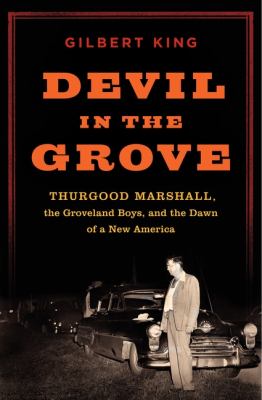 Devil in the grove : Thurgood Marshall, the Groveland Boys, and the dawn of a new America
by Gilbert King.


Publishers Weekly In July 1949, four black men in Florida (the "Groveland Four") were accused of raping a white woman. By the time Marshall joined the case in August, one of the defendants-who had fled into the swamps-had been "lawfully killed." After a trial of the remaining three, two were sentenced to death, and one to life imprisonment. On Marshall's appeal, the Supreme Court ordered a new trial for the two on death row, though both men were shot while being transported between prisons before the second trial began, and only one survived. Using unredacted Groveland FBI case files and the NAACP's Legal Defense Fund files, journalist King (The Execution of Willie Francis: Race, Murder, and the Search for Justice in the American South) revisits an oft-overlooked case, with its accuser, whose testimony was patently false; defendants, who suffered terribly as a consequence; local police officials and lawyers who persecuted and prosecuted them; and their lawyers, who showed remarkable courage and perseverance in seeking justice. The story's drama and pathos make it a page-turner, but King's attention to detail, fresh material, and evenhanded treatment of the villains make it a worthy contribution to the history of the period, while offering valuable insight into Marshall's work and life. Agent: Farley Chase, the Waxman Literary Agency. (Mar.) (c) Copyright PWxyz, LLC. All rights reserved.
(c) Copyright PWxyz, LLC. All rights reserved
Choice This account of the Groveland Four, defendants in the 1949 Jim Crow-era rape case, sheds new light on the fate of four African American men. King shows the lengths to which Thurgood Marshall and the NAACP Legal Defense Fund went to defend them, and to which Lake County, Florida, Sheriff Willis McCall and his deputies, prosecutors, and jurors went to enforce race-based justice. Drawing on FBI investigation files and personal papers of key NAACP lawyers, King elucidates the gendered and racial assumptions that denied the Groveland Four a fair trial and that justified arson, bombings, beatings, and murder to uphold southern racial mores. The case reached the US Supreme Court, which ordered a new trial for two of the defendants, who were then shot under suspicious circumstances. One defendant, Walter Irvin, survived, and his death sentence was commuted. King demonstrates that no rape likely occurred, and the examining physician's testimony was deliberately excluded from both trials. Set against the Cold War and on the eve of the Brown case, this saga illustrates that equal justice under law was honored in the breach in the post-WW II South. Summing Up: Recommended. All levels/libraries. E. R. Crowther Adams State College
Copyright American Library Association, used with permission.
Library Journal Seasoned journalist King (The Execution of Willie Francis: Race, Murder, and the Search for Justice in the American South) has written an arresting account of Thurgood Marshall's role as a prominent civil rights attorney in challenging racist "justice" in the South. King vividly renders the horrors perpetrated by a racist legal system and its odious representatives-principally, Lake County, FL, Sheriff Willis McCall, who was responsible for the 1949 arrest and unjust prosecution of four young black men, designated "the Groveland Boys." In this case, Marshall and the NAACP pursued every legal remedy to save the lives of these young men falsely accused of rape by a white woman, whose preposterous story went unquestioned by authorities. At great personal risk, Marshall tenaciously challenged the hegemony of McCall, eventually bringing to an end the racist reign of terror in Lake County and drawing it and its underlying mentality to national attention. VERDICT A powerful snapshot of history and the man who made it, certain to appeal to readers of Hampton Sides's Hellhound on His Trail: The Electrifying Account of the Largest Manhunt in American History.-Lynne F. Maxwell, Villanova Sch. of Law Lib., PA (c) Copyright 2012. Library Journals LLC, a wholly owned subsidiary of Media Source, Inc. No redistribution permitted.
(c) Copyright 2010. Library Journals LLC, a wholly owned subsidiary of Media Source, Inc. No redistribution permitted.
Book list In 1951 Thurgood Marshall had already begun the Brown v. Board of Education case when he took on an explosive case to save the only survivor of the Groveland Four, young black men wrongfully accused of raping a white woman in central Florida. The young woman, estranged from her husband, concocted a rape accusation involving two black men recently returned from military service and two other, unrelated men. One of the accused was killed by a vigilante mob. After a reversal of their convictions, as they faced a retrying of the case, two others were killed by the sheriff charged with protecting them. King draws on court documents and FBI archives to offer a compelling chronicle of the accusation, which led to a paroxysm of violence against the black community in Groveland, reminiscent of the destruction of Rosewood, in 1923; brutal beatings that led to forced confessions; and the dramatic trial. Marshall, physically exhausted and facing threats to his life, was housed, fed, and protected by a black community encouraged by his presence as he battled to save the life of the last remaining member of the Groveland Four.--Bush, Vanessa Copyright 2010 Booklist
From Booklist, Copyright © American Library Association. Used with permission.