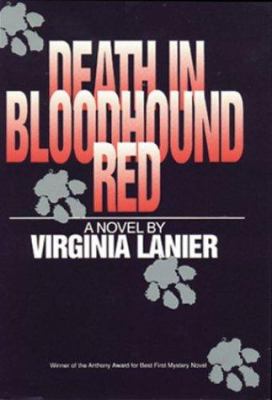 Death in Bloodhound Red
by Virginia Lanier

Library Journal : Not a police officer per se, rural Georgia's Jo Beth Sidden, a breeder and trainer of bloodhounds, collects clues in much the same way. Despite-or because of-her efficiency and resourcefulness in tracking missing persons for the police, she appears abrasive and outspoken, qualities that mask her fear of abusive ex-husband Bubba, who began stalking her the moment he left prison. Literate, well-modulated prose, satisfyingly detailed descriptions, elements of Southern decadence, and a leisurely pace punctuated by thrilling moments of action all characterize a very appealing first novel.
Copyright 1995 Cahners Business Information, Inc. Distributed by Syndetic Solutions Inc. Terms

Publishers Weekly : Lanier's anecdotal debut, melding good-old-boy humor and action-packed adventure, tracks the personal and professional life of Georgia bloodhound trainer Jo Beth Sidden. Working the three counties bordering the Okefenokee Swamp, Jo Beth conducts harrowing searches for missing persons, among them a retarded boy, two fishermen and an elderly man. In between, the outspoken, engaging heroine deals with a mysterious inheritance from her renowned painter father and the vengeful, murderous intentions of her former husband, Bubba. She also finds time to help old friends enmeshed in crime. The latter effort backfires, however, when Bubba is beaten nearly to death and Jo Beth can't give the police an alibi for fear of incriminating herself and a friend. Indicted for attempted murder, she must prove her innocence without divulging where she was or what she was doing. Lanier gives readers a thorough, insider's look at a unique occupation and a detailed view of Southern life near the swamp.
Copyright 1995 Cahners Business Information, Inc. Distributed by Syndetic Solutions Inc. Terms