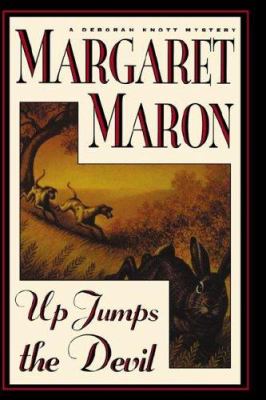 Up Jumps the Devil
by Margaret Maron

Library Journal : Maron returns to fictional Colleton County, North Carolina, the setting of The Bootlegger's Daughter (Mysterious, 1992). After someone murders one of Deborah Knott's childhood friends, and then another, suspicion falls on Deborah's father. A winning tale of closeted skeletons and family feuds.
Copyright 1996 Cahners Business Information, Inc. Distributed by Syndetic Solutions Inc. Terms

Publisher's Weekly : With vivid detail and engaging, credible characters, Maron's series featuring North Carolina district court judge Deborah Knott (Edgar winner Bootlegger's Daughter, etc.) brings to life fictional Colleton County and chronicles a charming but rapidly changing South. Here, the background is the suburbanization of the rural countryside less than an hour by superhighway from Raleigh. A few days after Dallas Stancil refuses to sell his land to a speculator, his stepson and wife murder him. Then, Dallas's peripatetic cousin Allen, the devil from Deborah's past, comes to town. Several days later, Dallas's father, Jap, is killed just before he can divide the property between Merrilee Grimes, his late wife's niece, and Allen. So who killed Jap, and who gets the Stancil land--Dallas's widow? Allen? Merrilee and her husband, Pete? Billy Wall, Jap's partner in the produce business? Dick Sutterly, a real estate developer who has a signed deed to Jap's property? Suspicions extend to Deborah's own family when one of her 11 brothers, visiting from California, reveals that he's lost his job and plans to sell his acreage, which abuts Jap's. In the end, the answer derives from a combination of greed, fear and ignorance of the intricate laws of inheritance. Maron eloquently describes different behaviors toward the land, from stewardship to despoliation. The old-fashioned warmth of the extended Knott family and Maron's well-constructed plot make this series a standout. Mystery Guild selection.
Copyright 1996 Cahners Business Information, Inc. Distributed by Syndetic Solutions Inc. Terms