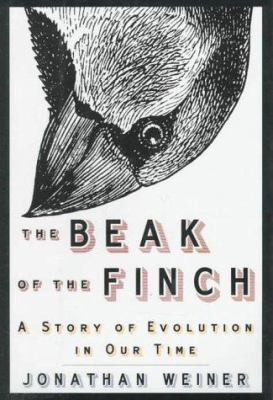 The Beak of the Finch
by Jonathan Weiner

Library Journal : This is an account of Peter and Rosemary Grant's research on the microevolutionary modifications that occur in finch beaks as they adapt to environmental changes. Analysis of data collected from 18,000 birds on a Galapagos island over 21 years conclusively demonstrates that the pressures of natural selection are currently altering wild populations. Also, by incorporating others' work on present-day evolutionary variations in fish, insects, and microbes, Weiner (The Next One Hundred Years, LJ 2/1/90) challenges the concept of evolution as a time-frozen process. Harmonized with the writings of Charles Darwin, this book provides the facts to bring alive evolution as an ongoing process. Highly recommended for general collections, but informed readers would do better with Peter Grant's own Ecology and Evolution of Darwin's Finches (Princeton Univ. Pr., 1986).-Frank Reiser, Nassau Community Coll., Garden City, N.Y.
Copyright 1994 Cahners Business Information, Inc. Distributed by Syndetic Solutions Inc. Terms

Publishers Weekly : For more than 20 years Rosemary and Peter Grant have divided their time between Daphne Major in the Galapagos and Princeton University. On the tiny island they have intensively studied six species of Darwin's ground finches; at Princeton, they analyze their collected data. In following their work Weiner ( Planet Earth ) tells a remarkable story of continuing evolution, and of the painstaking research that reveals it. The Grants documented two dramatic changes in the finches: after a drought in 1977 reduced their numbers by 85%, the surviving birds became larger, in weight, wingspan and beak; after El Nino's floods in 1983, the trend was reversed. The Grants found that during food shortages the difference of one millimeter in the size of a finch's beak could determine its life or death. In his eloquent and richly informative report, Weiner surveys as well research on evolution being done on crossbills, sticklebacks and fruit flies. Illustrations. 40,000 first printing; BOMC, QPB , History Book Club and Natural Science Book Club alternates.
Copyright 1994 Cahners Business Information, Inc. Distributed by Syndetic Solutions Inc. Terms