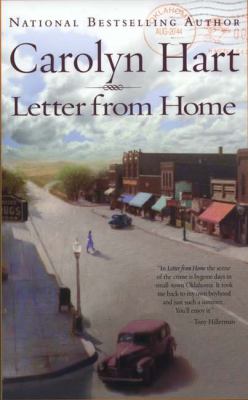 Letter From Home
by Carolyn Hart

Library Journal : A letter from her Oklahoma hometown spirits famous journalist Gretchen Gilman back to 1944, when someone murdered Faye Tatum. People believed Faye's husband, jealous of her flirtations, did it and then disappeared. Gilman believed otherwise and set out for proof. A solid standalone work from the author of the "Death on Demand" series.
Copyright 2003 Reed Business Information, Inc. Distributed by Syndetic Solutions Inc. Terms

Publishers Weekly : Hart has created a fabulous two-in-one: an excellent mystery and the poignant memoirs of her heroine, Gretchen Grace Gilman. A letter received by the now elderly newshound extraordinaire returns her physically, mentally and emotionally to her past and to her hometown in northeastern Oklahoma. As the pages of the letter unfold, so does the story of Gretchen's summer of 1944. With every able-bodied male involved in the war effort, Gazette editor Walt Dennis agrees to give 13-year-old Gretchen a shot as a newspaper reporter. But the sleepy town is soon rocked by the murder of Faye Tatum, an artist and the mom of Gretchen's friend and neighbor Barb. To make matters worse, the prime suspect is Barb's dad, Clyde, home on leave but nowhere to be found after the murder. Political ambitions spur the county attorney and the sheriff to track down Clyde and arrest him, while less hasty Chief Fraser is more interested in first sorting through all the facts. The obviously well-researched history draws the reader into this atypical whodunit. Characters are Steinbeck vivid, as is the sense of time and place. Hart masterfully portrays an American small town during WWII.
Copyright 2003 Reed Business Information, Inc. Distributed by Syndetic Solutions Inc. Terms