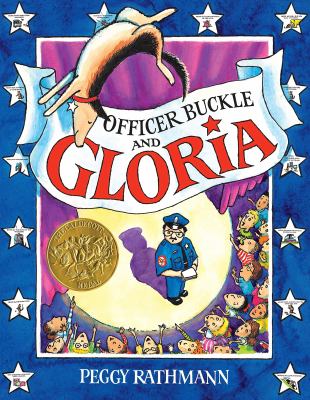 Officer Buckle and Gloria
by Peggy Rathmann

Publishers Weekly : Rathmann (Good Night, Gorilla) brings a lighter-than-air comic touch to this outstanding, solid-as-a-brick picture book. Officer Buckle, a mustachioed policeman who wears a crossed-out-banana-peel patch on his sleeve, has a passion for teaching students about safety, but his audiences tend to doze off during his lectures. They awaken, however, when police dog Gloria joins Buckle onstage. As Buckle speaks, Gloria-behind Buckle's back-mimes each safety lesson (e.g., leaping sky-high for ``Never leave a thumbtack where you might sit on it!'' and making her fur stand on end to illustrate ``Do not go swimming during electrical storms!''). School safety increases tenfold and Buckle and Gloria find themselves in great demand. But when he finally learns of his sidekick's secret sideshow, Buckle's feelings are terribly hurt. Rathmann's high-voltage cartoons, outlined in black ink for punchy contrast, capture her characters' every feeling, from Gloria's hammy glee and Buckle's surprised satisfaction to Gloria's shame at having tricked her partner. In a sound and sensitive conclusion, Gloria's disastrous attempt to go solo inspires Buckle's ``best safety tip yet'': ``Always stick with your buddy!'' As a bonus, equally sage sayings decorate the volume's endpapers. Ages 4-8.
Copyright 1995 Cahners Business Information, Inc. Distributed by Syndetic Solutions Inc. Terms

School Library Journal : K-Gr 3--A fresh, funny story about the wonders of teamwork. Officer Buckle is a safety-conscious policeman who spends his time devising tips for avoiding accidents. Unfortunately, the children of Napville School are an ungrateful audience, snoring through his lectures and ignoring his advice. Enter Gloria, Napville's new police dog and Officer Buckle's new partner. She accompanies him when he gives his lecture and performs her duties with aplomb. Buckle is surprised to see the children so attentive, but each time he checks on Gloria, she is sitting at attention. Thanks to the humorous illustrations, readers know what Buckle does not--Gloria is performing to beat the band, acting out the various accidents behind his back. Things are swell until a news team videotapes Buckle and his amazing sidekick and he learns that the reason for his newfound popularity is really Gloria's comedy routine. This sends the officer into quite a slump. Her act is a complete flop without him, however, and Napville School has its biggest accident ever after her solo performance. In the end, Buckle realizes that they're only successful as a team, and he is jolted out of his self-pitying funk. The vibrant palette of the cartoon art, as well as the amusing story, make this title an appealing read-aloud choice. Older children will enjoy poring over the many safety tips presented on the endpapers, all illustrated by Gloria's antics. A five-star performance.
Lisa S. Murphy, formerly at Dauphin County Library System, Harrisburg, PA Distributed by Syndetic Solutions Inc. Terms