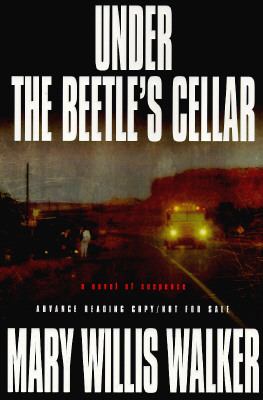 Under the Beetles Cellar
by Mary Willis Walker

Publishers Weekly : Walker, whose The Red Scream won the Edgar Award for Best Mystery of 1994, returns with a knockout novel that may send her back for another bow in '95. This time, Texas journalist Molly Cates is drawn into a headline-grabbing multiple kidnapping: religious fanatic and self-proclaimed prophet Samuel Mordecai has abducted 11 Austin elementary schoolchildren and their bus driver. The children and the driver, Walter Demming, are being held in another bus buried beneath a barn on the heavily protected compound of the Hearth (``earth with an h, which stands for heaven,'' says Mordecai) Nazarenes until the end of the world--a mere 50 days away, according to Mordecai's prophecy. Joining the action on day 45, Walker moves her story both forward and back, holding her readers with two narrative threads: one traces Demming's and the children's dark endurance under the earth; the other moves with Molly as she delves into Mordecai's past to help the feds and the cops (the latter of whom include her former husband, who is also her current lover) understand Mordecai's intentions. Readers quickly become attached to the private, utterly believable Demming, a Vietnam vet, and to the brave, alternately defeated and defiant, youngsters, one of whom suffers from severe asthma. Above ground, Molly bends her own rules to uncover the circumstances of Mordecai's birth and childhood, which figure prominently in his religious fantasies. With unerring pacing and a vivid supporting cast (including a frustrated FBI negotiator and a cunning killer operative who is a former nun), Walker leads up to her superbly orchestrated final act, which will leave readers cheering, weeping and gasping for breath. Mystery Guild selection; paperback rights to Bantam; author tour.
Copyright 1995 Cahners Business Information, Inc. Distributed by Syndetic Solutions Inc. Terms

School Library Journal : YA--Trapped underground for a ritualistic 50 days of cleansing are a busload of 11 elementary-school students and their Vietnam-vet bus driver. Kidnapped by Samuel Mordecai, a religious fanatic, the group slowly realizes that without a rescue attempt by the FBI, their demise will mark the beginning of Mordecai's prophesied apocalypse. Because he once found amateur detective Molly Cone to be a fair journalist, he requests that she interview him again. A chilling portrait of the man and his followers is tempered by the honest, earnest work of the FBI as they attempt negotiation and finally rescue. Molly's tenacity in her investigation of Mordecai leaves not one wart uncovered, yet without the help of the bus driver's literary friends, no one would be able to decipher the clues the entombed captives have hidden in their allocated one-minute messages to family members. A book that is horrifying in its realistic portrayal of religious fanaticism, heartrending in its description of the children's ordeal, and thrilling when it records one man's bravery.
Pam Spencer, Fairfax County Public Schools, VA Distributed by Syndetic Solutions Inc. Terms