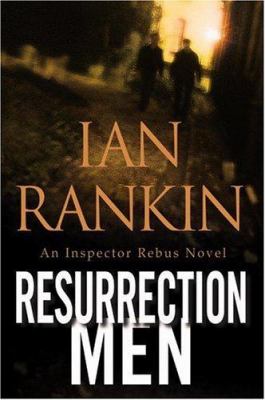 Resurrection Men
by Ian Rankin

Library Journal: In his latest Inspector Rebus outing, Rankin (The Falls) demonstrates once again his mastery of intricate plotting and complex characterizations. This time, the heart of moral darkness that he explores lies not in the city of Edinburgh but in the Scottish police department itself. After throwing a cup of coffee at his superior, the maverick Rebus is sent to a remedial course at the police college with several other trouble-making cops: "Tulliallan was their last-chance saloon. They were here to be resurrected." But Rebus has a secret mission: to determine whether several of his classmates, long suspected of being corrupt, stole drug money and committed other crimes. Unfortunately for Rebus, as part of their coursework he and his fellow officers are assigned an old, unsolved murder that may have involved illegal actions by Rebus. At the same time, his prot'g', Detective Sergeant Siobhan Clarke, is investigating the killing of an art dealer that may or may not be connected to Rebus's assignment. Rankin skillfully juggles all the plot lines, tying them together in a logical and satisfying conclusion. Highly recommended for most mystery and crime fiction collections.-Wilda Williams, "Library Journal"
Copyright 2003 Reed Business Information, Inc. Distributed by Syndetic Solutions Inc. Terms

Publishers Weekly: Rankin's moody Inspector John Rebus, unorthodox pride of the Edinburgh police, begins this latest installment in hot water. He's been sent back to the police college for "retraining," with a group of other "resurrection men," for throwing a cup of coffee at a superior in a moment of frustration. It soon becomes clear, however, that the police brass have their own agenda for Rebus. Some of his fellow officers are suspected of being on the take, and it's his mission-should he accept it-to try to infiltrate their schemes, perhaps even encourage them. Meanwhile, a murder he and the edgy Det. Sergeant Siobhan Clarke have been investigating has turned up some curious links with an apparently Teflon crime boss Rebus has been after for years. The two cases gradually come together in Rankin's skillfully woven plotting, full of his trademark tough, oblique dialogue and sudden moments of touching warmth. The book's only drawbacks are that it seems a little overextended, and that the final bloody climax lacks something in conviction, if not in tension. This isn't one of Rankin's top efforts, but even coasting, he leaves most police procedurals at the gate.
Copyright © Reed Business Information, a division of Reed Elsevier Inc. All rights reserved. Distributed by Syndetic Solutions Inc. Terms